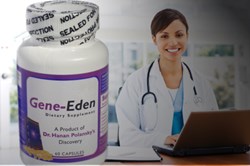 We recommend that Asian Americans take Gene-Eden-VIR, a natural remedy designed to help the immune system target the latent HCV. – Mike Evans, polyDNA
Rochester, NY (PRWEB) December 04, 2013
Acupuncture is one of the greatest risk factor among Asians for acquiring a Hepatitis C (HCV) infection. Results of a study "confirmed findings from prior cross-sectional studies of patients with chronic hepatitis C and similarly suggested that certain non-traditional risk factors such as acupuncture or exposure to contaminated needles are probable causes of HCV infection. In addition, acupuncture or exposure to dirty needles is a strong independent predictor of positive anti-HCV test results in Asians (1)."
Part of the reason acupuncture is a higher risk factor among Asian Americans than among other population groups is due to the role acupuncture plays in traditional Asian communities. Researchers found that "the difference in risk factors between Asian and non-Asian HCV patients could be due to … exposure to contaminated needles, since these tend to occur in more routine and casual settings in Asian communities (1)."
This is alarming since researchers showed in a study that Asians have a much higher risk of liver cancer than other ethnicities if they are infected with HCV. As study authors wrote, "Asian patients with chronic hepatitis C and cirrhosis have four times the risk of liver cancer compared to Caucasians, and twice the risk compared to non-Hispanic African Americans (1)."
In addition, the prevalence of HCV in Asian Americans is much higher than the national average. In fact, studies have shown that up to 6% of Asian Americans have HCV (1). "Preliminary studies from New York, Texas, Virginia, and California…have suggested a prevalence range from 2.2 - 6% in Asian Americans. This prevalence range is much higher than the national prevalence of 1.3% found in the National Health and Nutritional Examination Survey… (1)."
"We recommend that Asian Americans take Gene-Eden-VIR, a natural remedy designed to help the immune system target the latent HCV." – Mike Evans, polYDNA
A study published on August 12, 2013 in the peer reviewed, medical journal
Pharmacology & Pharmacy, in a special edition on Advances in Antiviral Drugs, showed that Gene-Eden-VIR reduced HCV symptoms. Study authors wrote that, "Individuals infected with the hepatitis C virus…reported a safe decrease in their symptoms following treatment with Gene-Eden-VIR (2)." The study authors also wrote that, "We observed a statistically significant decrease in the severity, duration, and frequency of symptoms (2)."
To learn more about Gene-Eden-VIR, and HCV visit http://gene-eden-kill-virus.com/HCV.php All orders of Gene-Eden-VIR are completely confidential, and no information is shared or sold to any third party. Privacy is assured.
References:
(1) Less-established risk factors are common in asian americans with hepatitis C virus: a case-controlled study. Published in November 2013.
http://www.ncbi.nlm.nih.gov/pubmed/24081641
(2) Gene-Eden-VIR Is Antiviral: Results of a Post Marketing Clinical Study. Published August 12, 2013.
http://gene-eden-kill-virus.com/PP_Gene-Eden-VIR-is-Antiviral.pdf
polyDNA is a biotechnology company that develops dietary supplements using the unique scientific method developed by Dr. Hanan Polansky, which is based on Computer Intuition.
In addition to his unique scientific method, Dr. Polansky published the highly acclaimed scientific discovery, called Microcompetition with Foreign DNA. The discovery explains how foreign DNA fragments, and specifically, DNA of latent viruses, cause most major diseases.
polyDNA developed Gene-Eden-VIR, an antiviral natural remedy that helps the immune system kill latent viruses.