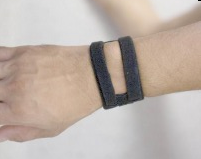 Lightweight, waterproof and comfortable, the WristWidget is much smaller than most wrist splints: about the size of a wide wristwatch band.
Hilo, HI (PRWEB) December 30, 2013
A new device created by a Certified Hand Therapist provides superior treatment for sports-related wrist pain. Lightweight, waterproof and comfortable, the WristWidgetTM is much smaller than most wrist splints.
For professional athletes, wrist injuries are serious setbacks. Standard therapy for the most common type of athletic wrist injury is rest, immobilization, and treatment with NSAIDs, followed (if necessary) by arthroscopic surgery. Bottom line: an athlete is out of work while the injury heals. This can cost an athlete hundreds of thousands, even millions of dollars, wrist-injured, top-seeded golfers Michelle Wie and Phil Mickelson have demonstrated.
Hand therapist Wendy Medeiros became determined to find a better solution. Each had an injury common in many professional athletes: a wrist injury in the triangular fibrocartilage complex (TFCC). http://en.wikipedia.org/wiki/Triangular_fibrocartilage She soon realized that no brace or splint on the market fully addressed the pain and grip problems associated with these TFCC injuries, and applied her 17 years of Occupational Therapy experience to the creation of something completely new. After a year of research and testing, Medeiros developed the WristWidgetTM, a device that stabilizes the wrist, but allows full range of motion to the wearer's hand and thumb, a critical feature for athletes. Its unique design stabilizes the two bones of the forearm, the ulna and the radius, taking over the role of the TFCC ligament so it can heal. The Wrist Widget's straps are adjustable to avoid the temporary hand or finger nerve irritation caused by the pressure of conventional wrist splints.
Designed to withstand the demands of the high-impact world of professional athletes, the WristWidgetTM has been used successfully by over 400,000 wrist-pain sufferers from all walks of life. It's suitable and affordable for anyone suffering from wrist pain. Satisfied customers include golfers, snowboarders, surfers, bowlers, and tennis players.
7 years later, the WristWidgetTM is on every continent, spread largely by word of mouth. Her service is unique. With every purchase, the customer has access to her knowledge. "This is important", she says. "Every customer demands care and attention". Every WristWidgetTM is guaranteed.
What is unusual about the WristWidgetTM, is that she makes them all. She scoured the planet for the perfect material. "I wanted it made in Hawaii but I could not find a manufacturing facility which could do the work well". Her husband found a perfect manufacturing warehouse, purchased the machinery and uses his engineering degree to make a great product.
There are now distributors in Australia, New Zealand, Canada, India, Europe and South Africa. It brings us all great pleasure to read all of the success stories and see the efforts of our time and expertise touch so many lives.
Pricing: WristWidget - $29 plus shipping.
The WristWidgetTM is available online at HYPERLINK "http://www.wristwidget.com"