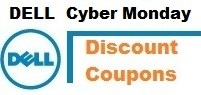 Savvy online shoppers can receive up to 46% off popular Dell laptops and desktops by using these discount coupons.
(PRWEB) December 01, 2013
The latest Dell Cyber Monday coupons and doorbusters have just been added to Bizwaremagic's special Dell Coupons webpage. This webpage was created to help the site's Laptop Buyer's Guide members and subscribers find the best online laptop and computer deals. Dell's Cyber Monday sale starts on 12/02/2013 12:00am EST (just after mid-night on Sunday) and shoppers can save up to 46% off laptops and PCs.
Like the Black Friday sale, Dell has divided up its offers into two groups: doorbusters and standing offers. The doorbusters consists of three rounds of limited quantity items starting on Monday at 8AM, 2PM and 6PM EST. Although it should be noted, at the present moment Dell is offering just one extra doorbuster at the start of the sale, where quick online shoppers can get 52% off a Dell XPS 15 laptop with 3rd Generation Intel Core i7, 1080p display, 8GB memory, 750GB hard drive (plus 32GB SSD) for a little under $800.
Some of the other doorbusters include the following: 36% off Dell Inspiron 17 laptop for $349.99, 47% off Dell E2213H 21.5-inch 1080p widescreen monitor for $99.99, Dell Inspiron 15 Touch laptop for $399.99, 33% off Dell Inspiron 660 desktop for $399.99 and 31% off the powerful Dell XPS 8700 desktop with 4th Gen Intel Core i7 processor, 16GB memory, 1TB hard drive, Nvidia GTX645 graphics for $799.99. Most items come with free shipping, but shoppers should check the official Dell site for all terms and conditions.
The standing offers or deals include the following: 37% off Dell Inspiron 15R laptop with 4th Gen Intel Core i5 processor for around $550, 40% off Dell Inspiron 15R Touch laptop for $649.99, 42% off Dell Inspiron 660 desktop for only $449.99. There are also some Alienware offers including $100 off Alienware X51 compact gaming desktop with 4th Generation Intel i3 processor for $599.99 and gamers can also get $100 off the Alienware 14 gaming laptop for $999.99 in Dell's Cyber Monday sale.
One of the most popular coupons in Black Friday's sale is back again where customers can not only get 35% off popular laptops, desktops and tablets, but also get an extra $50 off PCs $499 or above for limited quantity only. This coupon goes quickly and does not apply to doorbusters, Alienware, or Venue 11 Pro.
If this Monday's event is like previous sales, Dell may be adding new coupons or extending others. The Bizwaremagic.com site will be constantly updating its webpage as any new coupons are released and potential shoppers should bookmark this page if they don't want to miss any deals.
For those holiday shoppers who shop online, a whole list of Dell Cyber Monday deals, discounts and coupons can be found here: http://www.bizwaremagic.com/Dell_Notebook_Coupons.htm Bizwaremagic.com is a well established business site now enjoying its 12th year on the web. All products/companies mentioned above are registered trademarks of their respective owners and companies.