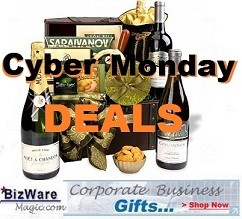 Smart online shoppers can save money by taking advantage of Cyber Monday deals and coupons like those featured on the Bizwaremagic.com site.
(PRWEB) December 02, 2013
New deals and coupons are being featured on the Bizwaremagic.com site for Cyber Monday 2013. These special offers include laptop and desktop deals from Dell, HP, Alienware and many more. Also, included are discounts on corporate business gifts from such diverse retailers as zChocolat, Gemorie and Things Remembered.
Each year around the start of the holiday shopping season, the Bizwaremagic.com site adjusts its layout and content to reflect Black Friday and Cyber Monday. It gathers all the latest coupons/offers for its online Laptop Buyer's Guide members and subscribers - these deals are featured on specially designed webpages with the appropriate coupons. Over the years, some of the most popular pages have been those dedicated to Alienware, Dell and HP discount coupons.
Not to be outdone, another popular section of the site is the online Corporate Business Gifts Guide, which has many special offers and bargains from gift retailers and companies. These can range in scope from high-end luxury gifts to small promotional items such as pens and calendars. There are engraved personalized items from "Things Remembered" and "A Gift Personalized", as well as traditional products such as gift baskets and desktop office items.
In addition to all these special deals and discounts, the 12 year old site also features a helpful webpage on searching/finding the best online deals. This page is entitled "4 Nifty Ways To Find The Best Online Deals" and gives the online shoppers several ways of searching out that special bargain. Lastly, Amazon has become one of the major online retailers, but finding the right gift on such a massive site can be intimidating, to say the least. So as part of its corporate gift guide, Bizwaremagic provides a convenient list of all the Amazon guides, together with a handy Amazon Gift Organizer.
A recent Gallup poll showed that half of all Americans, some 53% stated that they were "very likely" or "somewhat likely" to shop online during this holiday season. These shoppers probably enjoy the advantages of shopping online - no long lines, no busy traffic, no inclement weather... plus, the Internet gives the customer many tools to discover and review the gifts or items one is searching for on the web.
Bizwaremagic.com is a small business niche site helping a few of those shoppers find the most affordable items and gifts. All these Black Friday and Cyber Monday deals add to this tradition and is a major reason why online shopping has become so popular with the buying public.
For those holiday shoppers who shop online, a whole list of Cyber Monday deals, discounts and coupons can be found here: http://www.bizwaremagic.com Now enjoying its 12th year online, Bizwaremagic.com is a well established small business site. All products/companies mentioned above are registered trademarks of their respective owners and companies.