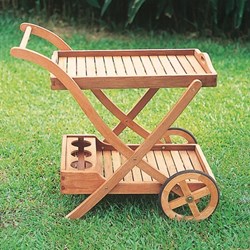 Royal Teak Collection
Los Angeles, CA (PRWEB) December 05, 2013
There's simply no wood that can outperform teak. It's far more durable than other hardwoods, requires little maintenance over the years and is known for ability to handle even the toughest outdoor conditions.
For years, teak has been used in the shipbuilding sector because of its ability to handle those often changing environments. "This is one of our most sought after brands by consumers looking to update their outdoor living space with quality design details," said a DA Stores company spokesperson.
Grown in Asia, and specifically Thailand, Burma (which accounts for a third of the world's teak production) and Malaysia, teak is a hearty tree that blossoms with small white flowers. It's recognized by its "harry" lower surface and many say it smells much the way leather does during the milling process. It's been mentioned in authentic writings dating back to the 7th century. It's only natural then that consumers would want to incorporate this particular hardwood into their modern outdoor seating and entertaining pieces.
Royal Teak Collection is one of the world's biggest manufacturers of teak wood and offers its designs throughout Europe and the U.S. Its home base is in Hilton Head Island in South Carolina.
DA Stores is offering wares from several of the Royal Teak Collection family including the Helena and Charleston lines. From deep seating sofas to durable umbrellas to modern chaise lounges, this premiere company delivers time and again.
DA Stores is headquartered in Los Angeles and has built its reputation on partnering with only the highest quality contemporary furniture companies in order to bring its customers the elements many other companies simply can't deliver. It offers free shipping on all purchases more than $75, provides a rewards programs for its customers and easy financing options. It's recently expanded its distribution points to provide even faster shipping around the country.