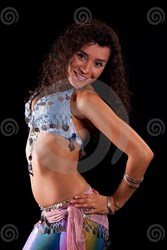 We have so many drugs that are used to lose weight and get fit, really it is all about getting back to the basics and just move. BellyScarf offers lower prices and lose weight at the same time.
Tampa, Florida, USA (PRWEB) December 01, 2013
Women along with men love saving money with coupons and deals for belly dancing scarves and zumba workout gear. BellyScarf is having a Black Friday and Cyber Monday sale to help lower cost for workout gear. Women across the globe are using zumba to lose weight. Gretchen Shirley loves what zumba and belly scarves have done for her. She said, "I started zumba about a month ago because I am working on a big project that is a bit out of my norm. This project has taken 3 years and in the meantime, I ended up in the hospital 3 times for varies injuries. I am an active 50-year-old and had major neck/spine surgery last year. I needed something for me. I spotted an ad on the post office bulletin board in Tucson, AZ for Zumba classes and decided I wanted to try this. By the time I was released to do this activity the ad was no longer there. My husband said that he too saw the ad and knew I wanted to try this, wrote down the Sasha's Facebook info and I was able to track her down and find out where she went.
Gretchen is using a great website like BellyScarf which offers wholesale hip scarves to help lower the cost of workout. I had never taken her class before but felt that this was the one to try. I found her and started going to class and am now addicted. I find this one hour where I can just let loose, have fun and feel young again. I don't need to lose weight; I am pretty thin, however I do need to tone and the fact that you can learn these moves in an environment where you don't have to worry about who sees you is great. My mom took belly dancing classes when I was a young child and I remember thinking, "how cool is that", here is my mom bringing out the fun side in her. We as adults, after having children, sometimes forget to let out the fun side and just enjoy. I have been enjoying and will continue to enjoy my time for myself and cherish the friendships along the way."
Belly Scarves have been around for many years, primarily using for belly dancing and sexiness where everyone is watching. Now women are using these hip scarves for losing weight where no one is watching. Gretchen says, "I wish more people would join in on the activity, both young and old. We have so many drugs that are used to lose weight and get fit, really it is all about getting back to the basics and just move, and in the meantime have a little fun with it. This is my zumba story and I am enjoying it.
For more information, visit their company website at http://www.BellyScarf.com
Company: Belly Scarf
Press Contact: Vijay Harkishnani, Founder and CEO
Press Phone: 1-800-743-1860