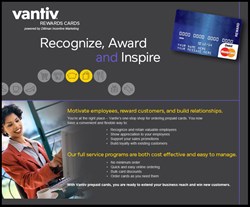 The new portal makes it even easier for businesses to quickly select and purchase first-class prepaid solutions at a single website
New Brunswick, NJ (PRWEB) December 02, 2013
Dittman Incentive Marketing, an award-winning leader in providing incentives, recognition, and rewards programs, today announced the launch of a new web portal - The Prepaid Card Center - for ordering Vantiv prepaid cards for the small and mid-sized business-to-business segment.
"The new portal makes it even easier for businesses to quickly select and purchase first-class prepaid solutions at a single website," said Dave Dittman, executive vice president at Dittman Incentive Marketing.
The portal is dedicated to serving small and mid-sized businesses that require quick and simple access to prepaid debit cards, whether for employee recognition, rewards programs, customer loyalty, or general payment needs.
"Businesses are continually looking for ways to more effectively reward employees and retain customers," said Ed Paciolla, vice president of prepaid products at Vantiv. "And Vantiv prepaid cards distributed by Dittman - our B2B distribution partner - is the perfect way to meet this growing need."
Like all Vantiv card programs, Vantiv's prepaid card products are safe and secure, utilizing comprehensive controls on fraud monitoring and offering full cardholder customer service support. Design features and account activation are easily managed through Vantiv's secure management portal and its 24/7/365 bilingual call center.
About Dittman Incentive Marketing
For more than 35 years, Dittman Incentive Marketing has been an award-winning, quality leader in providing incentives, recognition, and rewards programs to help companies realize immediate ROI in motivating sales people, employees, channel partners, customers, and consumers. Dittman's signature products and services include: TotalPRO® (Performance Recognition Online) – an incentive, recognition and rewards online software solution (SaaS), and Deluxe Group Incentive Travel. For more information, visit http://www.dittmanincentives.com.
About Vantiv, Inc.
Vantiv, Inc. (NYSE: VNTV) is a leading, integrated payment processor differentiated by a single, proprietary technology platform. Vantiv offers a comprehensive suite of traditional and innovative payment processing and technology solutions to merchants and financial institutions of all sizes in the U.S., enabling them to address their payment processing needs through a single provider. We build strong relationships with our customers, helping them become more efficient, more secure and more successful. Vantiv is the third largest merchant acquirer and the largest PIN debit acquirer based on number of transactions in the U.S. The company's growth strategy includes expanding further into high growth payment segments, such as ecommerce, payment facilitation (PayFacTM), mobile, prepaid and information solutions, and attractive industry verticals, such as petroleum, business-to-business, government, healthcare, gaming and education. For more information, visit http://www.vantiv.com.