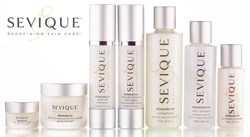 My skin feels like I remember it feeling when I was in my twenties.
(PRWEB) December 04, 2013
Focused on using natural ingredients without chemicals, Sevique Skin Care is pleased to announce the unveiling of its unique anti-aging skin care formulation called the 'Four Berry Complex'.
The complex, made from a rare blend of Gogi berry, Sea Buckthorn berry, Cranberry and Blueberry is an antioxidant and anti-inflammatory powerhouse.
Gogi berry has been well known for its high concentration of anti-oxidant properties. In addition, anti-oxidants can help fight sun damage and reduce inflammation for better looking, younger skin.
"You can have great skin without using chemically based products. At Sevique, we created a line of pure skin care products to help restore the skin's natural balance," said Susan Nickell, founder of Sevique.
Researchers have found all the berries in the complex to possess super charged antioxidant and anti-inflammatory powers, but the complex is also an excellent source of vitamins, amino acids and essential fatty acids Omega-3, Omega-6 and Omega-9. The very rare Omega-7 is also available thanks to Sea Buckthorn berry. Omega-7 has been successful in the treatment of psoriasis and eczema.
"Working together, these berries are good for not only hydrating and rejuvenating skin but improving texture, decreasing wrinkles and protecting against ultraviolet-induced damage," added Nickell.
"The new product also helps strengthen collagen and elastin in having healthy skin and maintaining a youthful appearance."
For more information about the Four Berry Complex, visit http://www.sevique.com or call 800-695-8711 to learn more.
Sevique, a revolutionary new skin care line, blends the best natural ingredients with the most advanced skincare science resulting in products that work naturally from the inside out to revitalize the natural balance of almost any skin type.