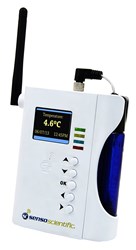 Receiving a core-technology patent is an important milestone for SensoScientific. It proves the uniqueness of our system, and truly establishes SensoScientific embedded technology at the forefront of remote and wireless temperature monitoring technologies
Simi Valley, Ca (PRWEB) December 10, 2013
SensoScientific Inc, a market leader in wireless environmental and temperature monitoring technologies for health care and the life science industry, announced today the issuance of US patent no. 8,427,338 B2 advanced modular environmental condition and object sensing methods.
"Receiving a core-technology patent is an important milestone for SensoScientific. It proves the uniqueness of our system, and truly establishes SensoScientific embedded technology at the forefront of remote and wireless temperature monitoring technologies," stated Mike Zarei, VP of Business Development of SensoScientific.
SensoScientific has been providing unsurpassed advancements in temperature monitoring systems for applications where it may be mission critical to monitor and respond to instant environmental changes. The zero cost infrastructure models and patented technology eliminates the need for computer hardware, network servers, and software.
About SensoScientific
SensoScientific offers the widest ranges of temperature sensors, humidity sensors, WIFI sensors, and cloud sensors. Keeping it simple and empowered by the advanced firmware technology, SensoScientific offers a practical solution specifically designed to meet strict regulatory compliance requirements for Health care, life sciences, pharmaceutical and food safety industries where environmental monitoring is critical.
Notable SensoScientific clients include the FDA (US Food and Drug administration), Harris County Hospital District, UConn, University of Miami, and Hospital Corporation of America, Kerr Drugs, United States Coast Guard, Hologic, Dignity Health, and United States Veteran Affairs. SensoScientific is also a contracted supplier of Amerinet and Premier GPO's.
For online information, please visit us at http://www.sensoscientific.com/.