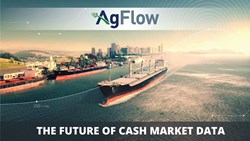 Bringing cash market data to a participative platform online is the logical step forward for the trade.
Geneva, Switzerland (PRWEB UK) 13 November 2013
Global Grain Conference - key yearly conference for international traders of cereals and oilseeds
Founded in Geneva in September 2012 by Siavosh Arasteh, Nicolas Carteron and James Dunsterville, AgFlow SA operates a web-based platform providing price analytics to global physical traders of agricultural commodities. Robert Zaremba leads AgFlow's IT team. The company is advised by Raymond Rogers, former Senior Agri Researcher at Cargill International (World Trading Unit in Geneva). AgFlow is also part of Switzerland's CTI (Commission for Technology and Innovation) program, the Swiss government's innovation incubator. Pascal Dutheil advises AgFlow on partnerships and business development on behalf of the CTI.
Approach
"Bringing cash market data to a participative platform online is the logical step forward for the trade" says James Dunsterville, Chairman of AgFlow, and provider of market wires on cash grain markets since 1984. AgFlow believes that the future of agricultural trade intelligence lies in offering a robust information platform designed for OTC market coverage that integrates with the workflows and needs of information providers such as brokers and analysts on a global scale.
Participative Reporting: AgFlow's platform currently focuses on cash market price reporting, and distinguishes itself by its participative nature. The company achieves market coverage by enabling participants all over the globe involved in making cash markets on a day-to-day basis to feed price information to a neutral environement. AgFlow's platform enables grain and oilseeds brokers and analysts to share price levels, nominal market values and more. In turn this data is instantly available to the traders operating in these markets.
People-focused: AgFlow is an information technology built for people. It empowers individual trade professionals to communicate and access market information, with speed and granularity. The company says that its platform reflects the personable nature of physical markets, and acts as complement to telephone discussions and face-to-face interactions.
Origins
AgFlow's inception originated in the second half of 2012. As consulants in cash markets, the company founders had access to a vast amount of market information and clients. Noticing a variety of problems with cash market information, they obtained support from reputable brokers, trading, and trade servicing companies to build a new product. AgFlow's website lists a number of supporters: among them, Swiss-based broker Vicorus, South American broker Cosur, UK flour miller Rank Hovis and Singapore headquartered dry bulk freight broker Howe Robinson.
How it works - the AgFlow platform enables its users to:
1) Search grains and oilseeds FOB & CIF/C&F markets across a wide database.
2) Access the latest price levels and nominal quoted by brokers and analysts, view forward and historical curves charts. Find profiles and contact information of brokers and analysts.
3) Track and follow updates on markets and commodities of interests
4) Upload pricing information on the go and reach a relevant audience
Location in Lemanic Arc
The company operates out of Geneva, Switzerland, an international hub for the physical trading of agricultural commodities. AgFlow believes their geographical positioning will enable them to nurture close relationships with trading companies and the service firms that power international trading of cereals and oilseeds.
For more information on AgFlow's platform release please visit http://www.agflow.com or contact siavosh(at)agflow(dot)com.