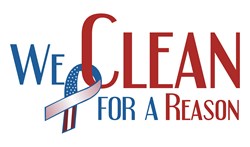 Do what you can, when you can, as often as you can.
Dover, Delaware (PRWEB) December 04, 2013
We Clean For A Reason, a Non-Profit cleaning company, has opened for business and is providing "green" cleaning services to homes and businesses throughout Kent and Sussex County, Delaware. We Clean for a Reason specializes in providing top-notch residential services as well as commercial cleaning services in office buildings, government buildings, medical centers, dental offices and banks. The company uses "green" cleaning programs to maintain a healthy environment in its customers' buildings and homes. We Clean additionally offers, as a "full service package", hardwood floor care, carpet cleaning and window washing.
We Clean doesn't expect big pay checks, worldly rewards or name recognition. All profits from both residential and commercial cleaning go towards helping cancer patients and disabled veterans across Kent and Sussex County, Delaware. In 2014, We Clean will offer new services such as free house cleaning, a free errand service, and free transportation to medical appointments. We Clean for a Reason is a non-profit organization that operates on donations.
About We Clean for a Reason
Harry and Sara Goodman are the founders of We Clean for a Reason in Milford, Delaware. The Goodman's philosophy is: "Do what you can, when you can, as often as you can." They started their non-profit organization to do their part in the fight against cancer, and to help those who have sacrificed so much for this country. When Harry was asked how he and his wife are planning to manage the responsibility of a non-profit, he said, "It's a lot for a small non-profit but, we serve a big God!" Mr. Goodman is a disabled veteran himself. He was serving as a sailor in the United States Navy when his mother was diagnosed with breast cancer. He struggled taking care of her because there wasn't anyone around to help with the little things like house cleaning, preparing meals and driving her to chemotherapy appointments. We Clean is a non-profit organization that provides extra hands for those "little things." Harry says although housework and errands may seem like small efforts, in hard times, a little help can go a long way.
Contact Information
109 N Walnut St.
Milford, DE 19963
Harry(at)wecleanforareason(dot)org
http://www.wecleanforareason.org
Like us on Facebook
302-930-0237