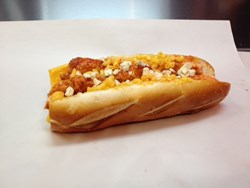 Train like a sumo....eat!
Philadelphia, PA (PRWEB) December 03, 2013
Sumo Steaks of North Philadelphia has created an innovative new Buffalo Mac 'n' Chicken Cheesesteak. With a flavor combination so unique, it is already making waves in the glorified Philly cheesesteak world and has even caught the attention of Zagat.
"In the world of food mash-ups, one of the most obvious would seem to be a mac 'n' cheese chicken cheesesteak, but somehow we've never run into one," says Danya Henninger of Zagat, "At Sumo Steaks, Billy Creagh has skipped over that idea in favor of a three way combo...and has us scheming a visit to Allegheny and Lehigh Avenues."
The Buffalo Mac 'n' Chicken Cheesesteak starts with a fresh baked Liscio's roll that is stuffed with homemade macaroni & cheese and breaded chicken tenderloins chopped on the griddle. Then the sandwich is topped with buffalo sauce (in mild, medium, or hot) and garnished with bleu cheese crumbles. The combination of flavors and textures will seduce your taste buds. Other versions of the Mac 'n' Cheesesteak is the tangier and less spicy BBQ Mac 'n' Chicken Cheesesteak, and for steak lovers, Rib-eye Mac 'n' Cheesesteak.
It's a fierce on-going competition in Philly on who has the best cheesesteaks. Traditionally, cheesesteak lovers flock to South Philly to satisfy their craving, but more and more cheesesteak enthusiasts are venturing north for their fix. With their opening, SumoSteaks is doing their part in developing the north Philadelphia community.
Opened in June 2013, Sumo Steaks has already become a beloved establishment being hailed as "North Philly's Own Cheesesteak." Close to Temple University, at 2805 North 22nd St, by the old Connie Mack Stadium of Philadelphia, it has become a new favorite among Temple Students and sports fans. With hand sliced 100% rib-eye steak used to make the authentic Philly Cheesesteaks, and original creations with unique twists on Philly favorites like the chicken cheesesteak, Sumo Steaks is certainly one of the newest contenders for Philadelphia's best cheesesteak, and Philly's best chicken cheesesteak.
Check out Sumo Steaks at http://www.facebook.com/sumosteaks, or follow them @SumoSteaks on Twitter and Instagram
Contact:
Billy Creagh
Sumo Steaks
215-416-7625