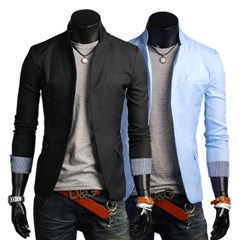 (PRWEB) December 01, 2013
Recently, 4leafcity.com, a famous clothing online shop, has announced its men's suit sale. All high quality suits from the company are now offered at deeply discounted prices, from 15% off to 42% off.
According to the CEO of the company, the company launches the promotion to expand its online market. Also, the company wants to greet new and old customers and show its appreciation to them. The new suits are modern and elegant in fashion; they are available in many different sizes.
The current development of science and technology allows the popularity of online shopping. With so many products to choose from, consumers may be confused. 4leafcity.com is here to help. The reliable company introduces fashionable products at times, and launches big promotion to help customers save money. Up to now, a lot of its products are highly praised and appreciated by the consuming public.
"We are happy to announce the big sale; it is open to all customers from around the world. Those who want to take advantage of this special offer should visit our online shop before December 20, 2013." The CEO states, "We have much experience in the clothing industry. Our purpose is to offer suitable clothes for men and women in all seasons."
About 4leafcity.com
4leafcity.com was founded in 2009 and serves more than 5000 customers from every part of the world. It is one of the leading suppliers of men's and women's clothes, helping the people worldwide develop self-esteem, confidence and love of learning. For a full list of services and to learn more about 4leafcity.com, please visit http://www.4leafcity.com/product-men-s-suits-009003001.aspx.