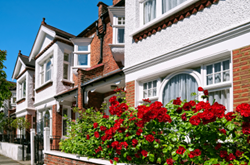 Home buyers should always remember that there's more value to be obtained from the way you do something than the price you pay to do it.
(PRWEB) December 02, 2013
"Everybody buys houses with cash, but since the banks are not lending any more cash there are less people who can afford to buy UK real estate," commented Rick Otton, the man behind creative real estate strategies.
Member banks of the British Bankers Association granted 42,808 new mortgages applications last October, 375 less than last September's count, (The Journal reported on 26 November 2013.)
Matthew Pointon, an analyst from Capital Economist, explained in the news report that the low figures mean that the banks are becoming more cautious in extending mortgages to people with fragile finances and overvalued real estate UK.
"Another reason why banks are approving fewer mortgage applications is because they have less money to lend, especially after the global financial crisis," according to Mr. Otton in a recent interview for his Power Property Profits Pack.
"But you know what, having no money to buy houses shouldn't be a problem for home buyers. You've just got to be really, really, creative when structuring the property deals, so you can pay for the house you purchased even without applying for a new mortgage with the bank or saving up for a large amount of cash for deposit," he said.
Mr. Otton then discussed one example of a creative strategy he's included in the limited-edition Power Property Profits Pack.
"If you've got a number of people who no longer want to pay for their own mortgage, you can turn them over to people who want one so the latter can make the payments for the former. This strategy hits two birds with one stone, because it not only gives the seller a chance to get rid of his debt, it also helps buyers get a property for sale without waiting too long or go through the uncertainty of applying for a mortgage," Mr. Otton explained.
"Home buyers should always remember that there's more value to be obtained from the way you do something than the price you pay to do it," he added.
You can go to http://www.rickotton.co.uk/ for more information about Rick Otton or sign up for a free copy of his Power Property Profits Pack.
About Rick Otton
Rick Otton is a property investment professional who, over the last 23 years, has introduced innovative real estate strategies to the UK, Australian and the United States. His creative 'low-risk, high-reward' approach to buying and selling houses is exemplified in his own business, We Buy Houses.
This year marks the 10 year anniversary of Mr Otton introducing his strategies to the UK, and the 5 year anniversary of his innovative 'Buy A House For A Pound' process – one that attempted to be emulated by others. His constant process of strategy refinement, and adapting to the ever-changing real estate market, continues to place him at the forefront of property investment education.
In 2012 Rick Otton published his Australian book 'How To Buy A House For A Dollar' which was named in the list of Top 10 Most Popular Finance Titles for 2013. A UK version is on the drawing board for publication in 2014.
Mr Otton freely shares insights into his non-bank-loan strategies that have allowed everyday UK men and women to beat the rental cycle and have their own homes. He coaches others on how to build profitable businesses by facilitating transactions that focus on the needs of potential buyers and motivated sellers.
Access his free downloadable Power Property Profits Pack at RickOtton.co.uk, as are the details of early bird pricing for his next UK 3-day real estate training conference in March 2014. Phone enquiries in the UK are welcome on 0207 000 1027.