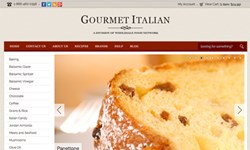 10% off Black Friday- Cyber Monday. Enter code CyberMonday13 on the shopping cart page
(PRWEB) November 29, 2013
Cyber Monday has arrived early at Gourmet Italian! The leading Italian food distributor and retailer in the United States is pleased to announce that customers ordering between November 29, 2013, through midnight, December 2, 2013, will receive 5% off of their total order by using the code 'CyberMonday13.'
Customers searching for unique presents for friends, family, and co-workers will find that the Gourmet Italian food store offers many one-of-a-kind and hard to find items for people with a love of Italian food, or who need a professional gift of quality for a business associate. Italian gourmet gifts make welcome gifts for people of Italian or Sicilian background, lovers of Italian food, chefs and aspiring cooks, and people who simply like to cook with quality ingredients in their kitchen.
Examples of quality imported seasonal best sellers include:

La Florentine Panettone — A premium imported Italian sweet bread that originated out of Milan and commonly enjoyed during the Christmas season with fine wine or espresso.
La Florentine Torrone — A candy made of honey, egg whites, sugar, and almonds and enjoyed by generations of Italians around the Christmas season; it's offered in three flavors: orange, lemon, and vanilla.
Balsamic Vinegar — This commonly used Italian food ingredient also comes in more unusual flavors and quality; from fig and truffle flavors, to high-quality aged 50 year and truly exceptional 100 year old balsamic vinegar products, it's easy to find the perfect gift for a food lover.
"Cyber weekend is the most exciting time of year for us at Gourmet Italian," said Brandon Villano, owner of Gourmet Italian. "For customers that might be a little afraid to indulge in a more unusual food item at other times of the year, around the holidays they are more willing to try something special with their cooking. It's also a time of year when many of our customers truly appreciate that they can purchase those hard to find imports for their Italian family members. It's a great time to restock pantries."
The quality food imports above and many more can be purchased at the Gourmet Italian food store. Using the 'CyberMonday13' code will give customers a 5% discount off their total purchase from November 29, 2013, through December 2, 2013.
Wholesale Food Network LLC operates out of Youngstown, Ohio, and has been doing business under the "Gourmet Italian" name since January 2009. For more information on any of their products, please visit the Gourmet Italian food website.