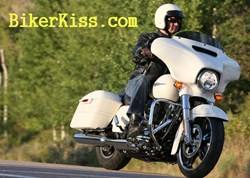 Los Angeles California (PRWEB) November 30, 2013
BikerKiss.com, the largest dating site for single bikers who are looking for biker friends and partners, announced that they have noticed a recent influx of memberships coming from four US cities: California, Texas, Florida and New York.
According to the data provided by BikerKiss, nearly 18.70 percent of members on the site are from California. Approximately 16.46 percent are living in Texas. The number of Florida bikers (14.61%) is very close to the number of bikers who are from New York(14.23%).
BikerKiss.com is a dating site for motorcycle riders to meet biker friends, share interests and seek out potential spouses. Even the members are from all over the world including countries such as US, UK, Canada, Australia and other European countries, almost 80% of its members are Americans. Over the last 12 years, BikerKiss has connected hundreds of thousands bikers on the site regardless of religion, ethic, race etc.
Every month, bikers have their own event which is spontaneously organized. People who live in the same city or close by go out together either for traveling or for a party or even for a date. Because of the same interest, they have many topics to share, which can be easily observed from the BikerKiss forum and blog.
"BikerKiss is a site specially designed for single bikers. Plenty of bikers come here for seeking partners or potential spouses, some want to make biker friends, riding buddy or hangout partners."said Kevin Royal, the marketing manager of BikerKiss.com,"We are trying our best to satisfy the need of every customers."
About BikerKiss.com
BikerKiss.com is the largest and most effective dating site for single bikers to find their match or friends for over 12 years. Members on the site come from all over the world because of the same interest. If you are looking for bikers to ride on Ducati, Harley, Triumph or BMW, BikerKiss is the right place to seeking out partners, potential spouses, biker friends and riding buddy etc.