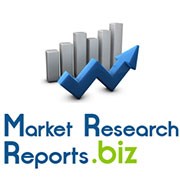 Albany, NY (PRWEB) November 30, 2013
In-Depth Research and Prospects of China Automotive Navigation Industry, 2013-2017
China serves as the world's largest country in terms of automobile production and sales, however, the assembly rate (take passenger cars as cardinal number) of navigators for new cars was only 8.6% in 2012, and there was a substantial growth potential. By the end of 2012, there were about 300 automotive navigation manufacturing enterprises in China, and the market scale was worth CNY33.8 million, year-on-year growth of 10%. It is expected that market scale of China automotive navigation will reach CNY 67.4 billion as of 2017.
To check out the complete table of contents, visit: http://www.marketresearchreports.biz/analysis-details/in-depth-research-and-prospects-of-china-automotive-navigation-industry-2013-2017.
In 2012, the sales volume of aftermarket automotive navigators generated 6.38 million sets in China, year-on-year growth of 17%, but growth rate continued to decline. At the same period, the sales volume of pre-installed automotive navigators reached 1.29 million sets, while the growth rate reached 43%, and this was the second year in a row that growth rate registered above 40%. The growth rate of aftermarket and the growth rate of pre-installed market displayed a negative correction, which will change future automotive navigation market. As of 2015, the market shares of China's pre-installed automotive navigators will reach 31.6% from 16.7% at present. In the same period, market penetration rate of pre-installed automotive navigators also will register around 20%.
Chinese navigation market was influenced by Japan. As for product forms, Japan and China both mainly produce In-Dash products. Since 2006, PND products have witnessed rapid development, however, the development of PND products lacked in strength on account of copycat products disrupting the market. Currently, aftermarket automotive navigation is the most vigorous segment in China with most output value. In 2012, the shipments of China aftermarket automotive navigation market roughly generated 6.624 million sets, which nearly equating to 6.5 times more than that of pre-installed automotive navigation market.
Meanwhile, China's GPS navigators witnessed vigorous development. Mobile phone manufacturers and operators and online application stores promote and sell mobile navigation products. Currently, taking the most eye-catching Apple App stores for an example, Careland and Autonavi were among the top ten fast selling applications in China throughout the year.
Automobiles to be equipped with GPS navigations that serve as standard configuration have represented an irresistible trend. The popularizing rate of GPS in American automobiles comprised 65%, and the rate was higher in EU countries and Japan, registering 73% and 76% respectively. By comparison, the popularizing rate of auto GPS was less than 10% in China. Although this rate reflects a huge gap between China and developed countries, however, with the increasing vehicle population, cars have become the needed products in many Chinese families, and GPS serves as an important component in vehicles, thus the popularizing rate grow rapidly, which brought commercial opportunities for GPS market.
Click here to download detail report: http://www.marketresearchreports.biz/sample/sample/179734
Table of Contents
1. Overview of Industry Development
1.1 Definition & Classification
1.2 Industry Chain
2. Development Overview of Global Automotive Navigation Industry
2.1 Development Status Quo
2.2 Trend of World's Automotive Navigation Industry
3. Development Environment of China Automotive Navigation Industry
3.1 China's Economic Development Environment
3.2 Policy Environment
3.3 Technical Environment
4. Development Status Quo of China Automotive Navigation Industry
4.1 Characteristics of Industry Development
4.1.1 Personalized Consumption; Dominance of Low-and-Middle End Consumption
4.1.2 Serious Homogeneity Resulting in Fatigued Market Performance
4.2 Market Scale
4.3 Consumption Factors
4.3.1 Channel Distribution of Product Information
4.3.2 Factors Influencing Product Performance
4.3.3 Two Major Purchasers: Auto Modification Shop and 4s AutoStore
5. Competitive Landscape of China Automotive Navigation Industry
5.1 Competition Status Quo
5.1.1 Aftermarket Automotive Navigation Serves as Priority; Mobile Phone Develops Rapidly
5.1.2 Chinese Domestic Enterprises Serves as Priority; Market Competition is Fierce
5.1.3 Stable Industrial Pattern
5.2 Market Concentration Ratio
6. Upstream and Downstream Analysis
6.1 Upstream Raw Material Industry
6.1.1 Steels
6.1.2 Integrated Circuit
6.1.3 Electronic Components
6.2 Downstream Application
6.2.1 Status Quo of Industry Development
6.2.2 Development Trend of Auto Industry in the 12th Five-Year Plan
7. Import and Export Data of Automotive Navigation Products
7.1 Import and Export Data of China Automotive Navigation, 2010-2012
7.2 Import Sources and Export Destinations of Automotive Navigation Products, 2012
8. Major Enterprises of China Automotive Navigation Industry
8.1 NAV INFO
8.1.1 Company Profile
8.1.2 Main Business
8.1.3 Competitive Advantages
8.1.4 Business Performance
8.1.5 Market Expanding Strategy
8.2 Beijing UniStrong
8.2.1Company Profile
8.2.2 Main Business
8.2.3 Competitive Advantages
8.2.4 Business Performance
8.2.5 Market Expanding Strategy
8.3 Super Map
8.3.1Company Profile
8.3.2 Main Business
8.3.3 Competitive Advantages
8.3.4 Business Performance
8.3.5 Market Expanding Strategy
8.4BDStar Navigation
8.4.1 Company Profile
8.4.2 Main Products
8.4.3 Competitive Advantage
8.4.4 Business Performance
8.4.5 Market Expanding Strategy
8.5 GOTECOM
8.5.1 Company Profile
8.5.2 Competitive Advantages
8.5.3 Business Performance
8.5.4 Market Expanding Strategy
To buy the copy of this report visit: http://www.marketresearchreports.biz/analysis/179734
9. Investment and Development Trend of Automotive Navigation Industry
9.1 Investment Opportunities
9.2 Investment Risks
9.2.1 Competitive Risks
9.2.2 Downstream Demand Risks
9.2.3 Risks of Fluctuations in Prices of Raw Materials
9.3 Industry Development Trend
9.3.1 Trend
9.3.2 Growth Prediction of China Automotive Navigation Market, 2013-2017
9.4 Technological Development Direction
9.4.1 Vehicle GPS Specified High-Precision Electronic Map Technology
9.4.2 Technology of Providing Accurate and Real-time Road Information
9.4.3 Multimedia Smooth Seamless Connecting Technology
Latest Reports:
Carrier LTE Application Strategies to Combat OTT Players and Services: http://www.marketresearchreports.biz/analysis-details/carrier-lte-application-strategies-to-combat-ott-players-and-services
Over-the-Top (OTT) applications are those that are provided via the Internet in which only a data connection is required. The wireless carrier is not directly involved and only recognized indirect revenue due to data usage. OTT players and applications have grown to become a significant threat to core services for network operators, most notably voice and messaging. Carriers do not discriminate what is being carried over the data channel and are satisfied (from a data service revenue perspective) to just sign up as many data users as possible.
LTE brings rather significant capacity gains to the mobile networks, which translates into more bandwidth to offer, more subscriptions to sell, more data consumed, and more data revenue for the carriers. On the demand side, bear services, particularly data, continues to grow at a healthy pace, but there are limits to growth in bearer service for consumer and even enterprise usage. In addition, there is an increasing awareness of Internet Protocol (IP) being cheap source of transport, and hence more people becoming aware of VoIP, and therefore OTT alternatives.
There is a big migration underway from traditional voice to data. This is not to mean that voice goes away in favor of only non-voice services. What this really means is that traditional circuit-switched (bearer) is going away, and eventually with it, traditional voice calling plans. With this evolution of bearer services becoming marginalized, the payload itself becomes the value and the simple carriage of data becomes a marginalized commodity. With this development, Value-added Service (VAS) applications become much more important to the network operators. Carriers can either sit idly by while this happens or take proactive action. We recommend the latter.
This research evaluates the OTT threat to wireless carriers and provides specific strategies and recommendations to compete and win in the marketplace. The report evaluates the general market drivers for VAS applications and the competitive factors issues relative to OTT player offerings. The report includes analysis of LTE enabled application benefits and challenges and presents an application roadmap.
Click here to download detail report: http://www.marketresearchreports.biz/sample/sample/179196.
The report also includes forecasts from 2013 - 2018 for every major VAS application category including:

Mobile Data
Voice over LTE (VoLTE)
Rich Communication Suite (RCS)
Mobile Advertising
API-based Apps
Social Networking
Coupons and Loyalty
Geo-location
Mobile Gaming
Mobile Virtual Goods
Video, TV, and Second Screen
Mobile Health
Mobile Entertainment
Machine-to-Machine (M2M)
Connected Vehicles
Public Safety
Messaging (non RCS)
Small Cell Targeted Advertising
Target Audience:
OSS/BSS Solution Providers
Mobile Network Operators
Mobile Software Developers
Mobile Payment Service Providers
Handset and Tablet Manufacturers
Content and Applications Mediators
Social Commerce Vendors and providers
Mobile Marketing and Advertising Providers
Telecommunications Infrastructure Providers
Pressure Relief Devices Market to 2019 - Increasing Focus on Pressure Ulcer Prevention and Quality of Care to Drive Growth: http://www.marketresearchreports.biz/analysis-details/pressure-relief-devices-market-to-2019-increasing-focus-on-pressure-ulcer-prevention-and-quality-of-care-to-drive-growth
GBI Research's report: "Pressure Relief Devices Market to 2019" looks at the market, competitive landscape, and trends for the four pressure relief devices market segments: mattress overlays, specialty beds (rentals), specialty beds (sales), and mattresses. It provides comprehensive information on the key trends affecting these segments, and key analytical content on the market dynamics. The report also reviews the competitive landscape, analyzes each segment's pipeline products and gives details of important Merger and Acquisition (M&A) deals. It is built using data and information sourced from proprietary databases, primary and secondary research and in-house analysis by GBI Research's team of industry experts.
Scope
Key geographies: the US, Canada, the UK, Germany, France, Italy, Spain, Japan, China, India, Australia and Brazil
Information on market size for the four pressure relief devices market segments: mattress overlays, specialty beds (rentals), specialty beds (sales), and mattresses
Annualized market revenue data forecast to 2019 and company share data for 2011
Qualitative analysis of key trends in the pressure relief devices market
Information on the competitive landscape, and the leading technologies of key players
Information on reimbursement trends and market access for key countries
Click here to download detail report: http://www.marketresearchreports.biz/sample/sample/179323
Reasons to Buy
Develop business strategies by understanding the trends and developments driving the global pressure relief devices market
Design and enhance your product development, marketing, and sales strategies
Exploit M&A opportunities by identifying the market players with the most innovative pipelines
Develop market-entry and market-expansion strategies
Identify the key players best positioned to take advantage of the emerging market opportunities
Exploit in-licensing and out-licensing opportunities by identifying the products most likely to ensure a robust return
Identify, understand and capitalize on the next big thing in the pressure relief devices market landscape
Make more informed business decisions from insightful and in-depth analysis of the global pressure relief devices market and the factors shaping it
About Us
MarketResearchReports.Biz is the most comprehensive collection of market research reports. MarketResearchReports.Biz services are specially designed to save time and money for our clients. We are a one stop solution for all your research needs, our main offerings are syndicated research reports, custom research, subscription access and consulting services. We serve all sizes and types of companies spanning across various industries.
Contact
M/s Sheela
90 Sate Street, Suite 700
Albany, NY 12207
Tel: +1-518-618-1030
USA – Canada Toll Free: 866-997-4948
Website: http://www.marketresearchreports.biz/
Blog: http://marketresearchreportsbiz.blogspot.com/