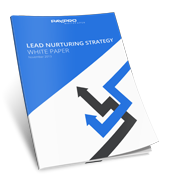 Toronto, Canada (PRWEB) December 02, 2013
PayPro Global an international provider of innovative tools and services to sell software online, announced today the release of Lead Nurturing White Paper, which is available for download at no cost at https://www.payproglobal.com/white_paper_1.aspx.
Lead nurturing strategy white paper addresses the common problem faced by today's software marketers - leaking conversion funnels. Due to the proliferation of media choices, consumers take longer to consider their buying decisions. This means that the buying and sales cycles are changing and they are no longer synchronized. They become harder and harder to plan and control. Statistics show that 79% of marketing leads never convert into sales, but 80% of those dead-end prospects will ultimately complete the purchase within a 24 month time-span from one of the competing companies. Customer's final decision depends on the relationship quality established between one of these companies and the prospect.
Consumers become increasingly unresponsive to traditional broadcasting-style marketing methods. They require personal approach to their needs and tailored solutions for their personal challenges they seek when researching a product. This means that software enterprises need to rethink their marketing strategies and establish a mix of bold inbound campaigns to manage their leads for successful sales.
The white paper shares insight on today's evolving consumer behavior and provides best practices to help software marketers craft successful communication strategies with prospects that help produce more sales qualified leads, such as:

inside-out analysis of lead nurturing process;
guidelines to find the best strategy of managing leads
identifying the key point of the campaign and establishing the lead database
different categories of leads and lead lifecycle
insights of marketing and sales campaign organization
The Lead Nurturing Strategy White Paper is available for download at no cost at https://www.payproglobal.com/white_paper_1.aspx.
About PayPro Global
Founded in 2006, PayPro Global Inc. develops and hosts an eCommerce solution that allows anyone to easily sell software online. PayPro Global supports more than one hundred currencies, all major credit and debit cards, and a wide variety of payment options. The company also offers software developers state-of-the-art licensing, activation, and anti-piracy protection for their applications.
PayPro Global Inc is headquartered in Toronto, Canada, with development centers in Ramat Gan, Israel and regional offices in New York, USA, and London, UK.
Web site: http://www.payproglobal.com
Twitter: @paypro_global