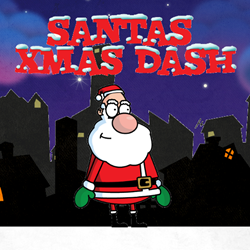 'Santas Xmas Dash' is a fun game for all the family to enjoy.
Nottingham, England (PRWEB) December 01, 2013
'Santas Xmas Dash' is the new game from Lost World Creations and is available on both Android and Apple devices.
The app has been designed to be simple to play and fun for all ages and experience, our goal was to create a fun game for the whole family to play and enjoy during this Christmas holiday time.
The game is split into two different game modes. The first is called 'Santa Dash' and is designed to test the user's reaction speed. As the game begins, the user is asked to tap on bright shining lights that glow and pulse on the screen for a limited time, as the user touches the light, Santa will move along the wire towards the next house on his delivery. If the user misses the light or the user taps the wrong light then Santa will fall from the wire into the snow below, the game is over. At each house, Santa will deliver some presents and then jump back onto the wire and the game will speed up, the user must react with increasing speed and accuracy to stay in the game. The aim of the game is to travel as far as you can along the wires and to deliver as many presents as possible.
The second game mode is called 'Santa Says,' this game is designed to test the user memory. When the user begins the game they will be instructed to watch a sequence of glowing and pulsing lights, once the sequence has been completed the user will be asked to repeat the sequence exactly. Each time the user repeats the sequence correctly, Santa will move to the next house and deliver some presents down the chimney, the sequence will be extended by one and the user will have to recall the new sequence. Should the user fail to repeat any of the sequence's correctly, Santa will fall from the line and the game is over.
This game features a simple touch interface, two different game modes and two difficulty settings each, three fun and cheerful Christmas background tracks and fun cartoon graphics.
Available on the 'Apple App Store' for IPod Touch, IPhone's and IPad's. Price $2.99
Apple App Store
Available on the Google Play store for all android phones and tablets using Android OS Honeycomb and above. Price $2.99
Google Play
Lost World Creations ltd is an independent games company specializing in simple but fun games to play for all the family. We have released games across multiple platforms including the Xbox 360, Windows PC, Android, Ouya and Apple IOS. Please check out our website for a full list of all our games currently available Lost World Creations.
Lost World Creations would like to wish you all a very Merry Christmas and a happy new year.