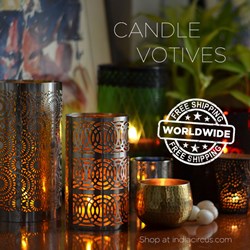 Create Curate Contemporary Culture
(PRWEB) December 03, 2013
The home décor, lifestyle and personal accessories brand IndiaCircus which is headed by Design Director Krsna Mehta is pleased to announce the launch of free shipping of products worldwide. This is to ensure consumers from all over the world can purchase products from the website and have a hassle free delivery system.
IndiaCircus have tied up with some of the most efficient logistics service providers, who guarantee a timely execution of domestic and international shipments. IndiaCircus also delivers to countries as far as Europe, USA and Asia.
IndiaCircus is a company which seeks to curate the essence of life in India in its products, and transcribes this loud and colorful experience into contemporary and sophisticated style. With a range of products from home décor items to personal accessories, IndiaCircus has a customer base not only on the domestic front but also internationally.
As the festive season kicks in, IndiaCircus by popular demand has decided to offer customers the advantage of no shipping charges to ease the shopping experience and make it a more complete affair. Now, customers can bring home products from the classic range of premium crockery, elegant Cashmere Shawls, beautiful cushion-covers and much more. The ranges of products not only make for elegant gifts, they are also ideal to add that grace and charm to a home.
This festive season go splurge and enjoy the free shipping benefits on their website now!
IndiaCircus is a design house which believes in attention to detail. Each thing that they design has to be something unique and precious. It is this design ideology that makes every product of India Circus a true pride and pleasure to own. For more details log onto in indiacircus.com.