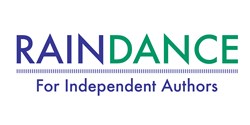 Raindance for Independent Authors will provide a network and the resources for writers to achieve the level of professionalism required for commercial and critical success.
New Westminster, B.C. (PRWEB) November 29, 2013
Vivalogue, an author services company based in New Westminster, BC, has strengthened its commitment to independent authors by launching a new networking cooperative for self-published authors and writers considering self-publishing.
The network "Raindance for Independent Authors" grew out of the Raindance Book Festival for Independent Authors held November 9, 2013 in Richmond, B.C. Believed to be the first of its kind in Canada, the festival included a book fair, workshops, editors' 'blue pencil' sessions and a book drive supporting Frontier College. The festival was organized using a collaborative model which encouraged authors to contribute their collective time and talents. Authors identified this collaborative aspect of the festival as a key benefit of participation and expressed interest in continuing these relationships.
The core of the independent author network is a new website http://www.raindancebookfestival.com that provides independent authors with networking opportunities, professional development, access to peer reviews and information on industry trends. It features books by festival authors, links to their websites, related news items and promotional videos filmed at the event. An associated Meetup Group has also been formed which will allow authors to meet on an informal basis, participate in peer review processes and discuss book marketing issues. The next Raindance Book Festival for Independent Authors is provisionally scheduled for May 2014.
The Raindance initiatives are part of an industry trend which recognizes the importance of independent authors. Long dismissed as 'vanity press', independent publishing is increasingly viewed as a legitimate business model for entrepreneurial authors willing to take control of the production and sales process. Independent authors now account for 25% of bestselling titles on Amazon and, as of June 2013, are eligible for full membership in the Writers Union of Canada.
"We are pleased to provide this forum for independent authors," said Vivalogue director Kilmeny Jane Denny. "We are confident that it will allow independent authors to support each other and to have access to the resources necessary for achieving the level of professionalism required for commercial and critical success."