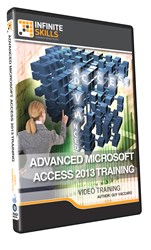 Learn Advanced Microsoft Access 2013 at your own speed.
(PRWEB) December 01, 2013
Software training firm Infinite Skills Inc. this week released its "Advanced Microsoft Access 2013 Training Tutorial," a course designed for experienced Access users, covering advanced topics in database design and functionality with the database application included in Microsoft's Office suite of professional applications.
Microsoft Access is a relational database management system that employs the Microsoft Jet Database Engine with a graphical user interface and software development tools, allowing users a wide range of functionality for database design and application development.
Infinite Skills' Advanced Microsoft Access 2013 Video Training unlocks the next level of Access functionality for experienced Access users, covering a wide range of topics from advanced table design and advanced queries to creating custom web apps and linking external data.
The course is currently available bundled with the introductory course at a discounted rate.
Advanced Microsoft Access 2013 Training - Video Streaming
Course author Guy Vaccaro has more than 15 years' experience with Access and Office Suite training in classroom, manual writing, and computer-based formats. With a focus on Microsoft Office Suite, Vaccaro is especially accomplished in its uses in web application development and database functionality.
Following an introduction explaining relational databases, Vaccaro starts off with advanced table design, looking at input masks, indexing, using multiple primary keys, and working with table analysis tools.
Next, the course looks at advanced topics in querying, explaining IIF, IF-commands in Access, cross tab queries, and action queries that can change data according to the query type.
Vaccaro continues with chapters exploring standard query language (SQL), advanced form design, automation with tabs and macros, creating custom web apps with Access, and linking external data from Excel and Outlook.
"This course covers many advanced topics in Microsoft Access," Vaccaro says. "It's set up so that you can pick through the lessons for topics you need to know more about and ignore lessons you don't need."
Free demo videos and a full list of course contents can be found on the Advanced Microsoft Access 2013 Training training page of the Infinite Skills website:
http://www.infiniteskills.com/training/advanced-microsoft-access-2013-training.html
Infinite Skills offers its Advanced Microsoft Access 2013 Training Video either as a DVD or a direct download from the company website at a retail price of $99.95. The Microsoft Access Training Bundle, including the introductory course, is available for 149.95. Though the compatibility of programs varies, all Infinite Skills titles and formats are compatible with both Mac and Windows operating systems, and shipping is available around the globe. Additionally, Infinite Skills tutorials are supported by project files which correspond to examples in the videos.
About Infinite Skills Inc.
A leader in the field of software training, Infinite Skills designs its courses on a task-oriented model, teaching complex skills by providing hands-on examples and guiding users as they carry out essential functions. Infinite Skills offers a wide range of software titles available as DVDs, digital downloads, and in iPad editions. Infinite Skills now offers a subscription service, providing access to all its training content for a monthly fee, keeping with company's aim of delivering professional training to customers anywhere they want to learn.