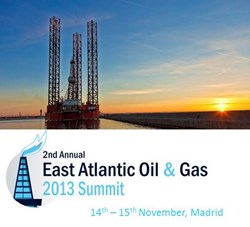 It's an IRN Summit.
London, UK (PRWEB UK) 2 December 2013
The London based global summits organiser, IRN, recently hosted the 2nd Annual East Atlantic Oil and Gas 2013 Summit in the Hotel Meliá Madrid Princesa in Madrid on 14th-15th November 2013. This senior level meeting focused on the East Atlantic region with insights from key executives from the oil and gas industry in France, Spain, Portugal, Morocco and Mauritania – areas where, although the oil and gas fields are recognised and regarded with high importance and potential, they still remain majorly underexplored.
With numerous companies attending the summit and a remarkable panel of speakers, IRN gathered together experts including Juan Carlos Muñoz-Conde, Corporate Manager at Bnk España; Carlos Alvarez, Geoscientist at CNWL Oil España in Spain; Hosna Mustaphi, Head of Hydrocarbons Exploration and Production Department at the Ministry of Energy, Mines, Water and Environment in Morocco; Franck Le Baron, the Vice President of International Projects at Elengy of GDF Suez Group in France; Álvaro Arnaiz Giménez-Coral, Exploration Manager at Repsol and Sofia Alexandra Gomez Silva, Geoscientist at Galp Energia in Portugal; Francisco De La Flor, Regulations Director at Enagas; José Miguel Martins, Head of DPEP, Division for Petroleum Exploration and Production at the Portuguese Directorate General for Energy and Geology; Roberto Martinez Orio, Deputy Director of Research on Geological Resources at the Spanish Geological Survey (IGME); Margarita Hernando, Secretary General at ACIEP; Rui Pena dos Reis, Professor of Geology at the University of Coimbra; Tiago M. Alves from Cardiff University; Nuno Pimentel from the University of Lisbon, and Julien Bailleul from the Institut Polytechnique LaSalle Beauvais. Karl Teviotdale, General Manager for Spain at Leni Gas & Oil chaired the Summit.
While speaking, Hosna Mustaphi, the Head of Hydrocarbons Exploration and Production Department at the Ministry of Energy and Mines in Morocco, highlighted the country's high potential as a new hot spot in the field of oil and gas. Local energy demand is growing, creating a lucrative market with easy distribution for IOCs as the infrastructure is growing and on-shore operations are easily manageable. This suggests a prosperous future in Moroccan oil and gas industry development, with the country's orientations confirming her view in terms of future explorations.
Another key contribution came from Juan Carlos Muñoz-Conde, Corporate Manager at Bnk España. Mr Muñoz-Conde pointed out that, although very underexplored, Spain's potential within the oil and gas industry has recently attracted increasing attention. As for unconventional exploration, he stated that the"shale gas industry opens an opportunity to stimulate economic growth, attracting direct investment, creating jobs and increasing competitiveness. Spain is committed to gas as primary energy and has developed technologies for a highly evolved gas market. Due to the fact prospective gas resources in Spain reaches 2500 BCMs, 70 years of national consumption, it is a priority to evaluate, through exploration programs, the real potential of this energy resource in our country".
Mr Giménez-Coral from Repsol supported the view that Spain has "an important hydrocarbon potential". Coming from the operational side in Portugal, he commented that "the company has a strong exploration effort in the country".
Karl Teviotdale, the General Manager of Leni Gas & Oil for Spain, and chairman of the Summit, spoke about Ayoluengo field exploration history and introduced the delegation to Leni's operations there, by analysing the reservoir model and pointing out the well locations.
Mr De La Flor, Regulations Director in Enagas, delivered a valuable presentation at the Summit on Spain's gas supply infrastructure and how the country intends to improve its gas system.
Antonio Martín, Cairn Energy's General Director, spoke about the company's present exploration targets in the East Atlantic and Mediterranean region while Mrs Gomez Silva from Galp Energia (Portugal) spoke about the their explorations at the Moroccan Tarfaya Offshore Block. Mrs Margarita Hernando from the Spanish Association of Companies for Research, Exploration and Production of Hydrocarbons (ACIEP) gave a valuable summary on the country's oil and gas landscape highlighting that "since the 70´s there hasn´t been so much interest in exploration in Spain. But during the 5 last years, there has been an increase of 80% in the number of applications for exploration permits. Spain has an E&P opportunity to develop the economy, always under the rigorous observance of the environmental protection laws. Several countries have changed their social and industrial reality thanks to Hydrocarbons and we want to do it as well."
The 2nd Annual East Atlantic Oil & Gas 2013 Summit was sponsored by CNWL Oil Espana, and the facility company Solmed Alliance; it was supported by the Spanish Association of Companies for Research, Exploration and Production of Hydrocarbons, ACIEP.
For purchasing documentation of the summit please get in contact with the organiser company IRN at info(at)irninternational(dot)com and +44 (0) 207 111 1615.