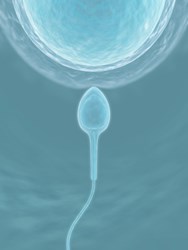 It could help men make better decisions, avoid unnecessary surgical procedures and potentially help save money by not having to do surgical procedures that aren't needed.
Bolton, UK (PRWEB UK) 4 December 2013
As reported by BBC news, scientists have developed a new non-invasive test, which can predict whether or not a man with zero sperm count is capable of fathering a child through IVF (1). As current methods rely on surgery, it is believed that a less invasive test will lower the incidence of associated surgical errors.
Accepted practice involves a testicular biopsy, which allows surgeons to look for sperm within the testes (1). Hopes are, that this new research will negate the need for such procedures, helping men to avoid unnecessary surgical procedures.
According to the BBC, the new test identifies biomarkers within the sperm, which indicates whether or not sperm retrieval is likely to be successful (1).
Discussing the research, Dr Allen Pacey, chairman of the British Fertility Society, highlighted the advantages of the treatment (1)-
"The conventional method was to first examine semen under a microscope to see if sperm was there, If no sperm was seen, the next step was to take tissue from a man's testicle and examine it with a microscope. Quite understandably, many men would rather not undergo this procedure if they didn't have to,"
"Therefore, having an accurate biochemical test which might help doctors advise men whether taking a piece of the testicle is worth doing or not, would be very useful. It could help men make better decisions, avoid unnecessary surgical procedures and potentially help save money by not having to do surgical procedures that aren't needed."
"The fact that two protein markers present in semen can be so well correlated with whether sperm are likely to be found is very encouraging indeed."
With work underway to adapt the test for use in fertility clinics, it is believed the process may be an alternative to surgery in as little as a year (1).
Considering the procedure, Asons Executive, Suzanne Yates–
"This technique represents a progression in male infertility diagnostic procedures; and any test which negates the need for surgery is going to be welcomed."
"Testicular biopsies can be associated with prolonged bleeding and infections, and it is also important to bear in mind that the use of anaesthesia is never without risk. If a simple test negates the need for surgery, then such complications can be avoided. At Asons Solicitors, we see claims for surgery compensation, where complications are worse that the original complaint. Improvements such as these can help avoid such scenarios, and it is crucial that such research is prioritised."
In the event that someone has been subject to a surgical error, they must seek legal advice as quickly as possible. Taking action can prevent the same situation from reoccurring, helping others to avoid injury in future.
Those who have suffered from medical negligence may be able to make a medical claim for surgery compensation. Asons Solicitors deal with NHS compensation claims on a regular basis, they can be contacted on: 0844 850 1062 or via their claim form at asons.co.uk.
-Source-
(1) BBC News 'Sperm test for infertile men could reduce surgery' (21/11/2013) bbc.co.uk/news/health-25018137
-ENDS -
About Asons Solicitors:
Asons Solicitors is a Bolton-based law practice that specialises in personal injury and industrial disease claims. Founded by brothers Imran Akram and Kamran Akram, Asons Solicitors has developed to become a young and dynamic law firm that delivers practical solutions to clients in times of difficulty. Their continued focus on their staff has seen them awarded with the Investors in People "Gold Award"; which is reflected in the professional and personable approach they take in working with clients. They strive to grow and to develop, and their supportiveness and attention to detail ensures that their clients use them time and again.
For further information contact:
Email: info(at)asons(dot)co(dot)uk
Website: http://www.asons.co.uk