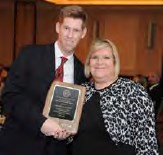 My Integrity, Demeanor, Preparedness, and Credibility Allow Me to Help My Injured Clients
Fort Lauderale Florida (PRWEB) December 01, 2013
Fort Lauderdale Lawyer Sam Coffey has been named the winner of the Joseph J. Carter Professionalism Award by the Broward County Bar Association. The award is given once a year to an attorney who has been practicing for less than twenty years.
The Joseph J. Carter Professionalism Award is only given to one recipient per year who shows qualities of integrity, demeanor, preparedness, credibility, and serves as a role model for the legal community. Florida Injury Lawyer Sam Coffey has demonstrated all these qualities and is this year's talented and deserving winner of the 2013 Joseph J. Carter Professionalism Award. The Broward County Bar Association selected Sam Coffey out of numerous applicants, because he exhibited of the highest degree of professionalism in accordance with the Florida Rules of Professional Conduct.
For Fort Lauderdale personal injury attorney Sam Coffey is an experienced trial lawyer, dedicated towards representing individuals and their families who have sustained personal injuries caused by the negligence of others. He has handled cases involving personal injury, catastrophic injuries, harmful and defective products, defective drugs, negligent drivers, slip and falls and dangerous conditions. Mr. Coffey is A.V-rated by Martindale Hubbell and is included in their Bar Register of Preeminent Lawyers. Sam Coffey was chosen by his peers for inclusion in Super Lawyer, which is an honor awarded only to the top 5% of practicing attorneys from the community.
About Abramowitz, Pomerantz and Coffey, P.A.
The Lawyers of Abramowitz, Pomerantz and Coffey, P.A., are Florida injury lawyers who specialize in cases dealing with wrongful death, product liability, premises liability, auto accidents, medical malpractice, and any other case where personal injury caused by another's negligence is involved. The firm has handled numerous high profile cases and have achieved numerous multimillion dollar settlements and verdicts on their clients' behalf. However no case is too small, as your Florida Injury Attorney will do all they can to ensure that you get the settlement that you deserve.