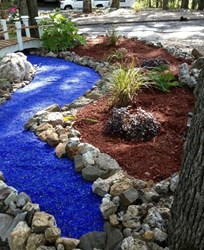 The manufacturer from Utah "cooks" the recycled glass to make it chunky and add pigments to make over 25 different colors.
Kunkletown, PA (PRWEB) November 30, 2013
First impressions are everything… house included. Forget boring brown mulch or traditional bark, there are countless ways you can transform your landscaping décor with the newest trend in green landscaping. Enter: glass mulch, an eco-friendly alternative created by Pennsylvania's first Benefit Corporation, Close the Loop, which recently celebrated its 13th year in business. Recycled glass mulch and other recycled products not only alleviates pressure from the planet but also adds some well-needed sparkle to a person's landscaping.
Each year, over 41 billion glass containers are made, and only 30 percent of those go to recycling. Glass takes over 1,000 years to decompose, thus you'll be able to get the best use out of the product without having to generate any waste. Mulch reduces moisture loss in soil by impeding the water evaporation process. Covering area with mulch also reduces the amount of weeds because weed seeds need sunlight to grow and the mulch blocks sunlight.
Close the Loop partnered with a glass mulch manufacturer from Utah who "cooks" the 100 percent recycled glass to make it chunky and add pigments to make over 25 different colors. It is then rough tumbled to remove virtually all sharp edges and it never fades in color. Close the Loop also works with an east coast glass pulverizing plant which produces the Pennsylvania Blue Glass mulch made from glass bottles.
Close the Loop Company has always had a vested interest in waste issues, and constantly researches solutions from individuals and companies finding new uses for waste, which is viewed as valuable unprocessed raw materials. Getting this raw material in to the hands of the companies that can do something useful with it not only cleans up environmental problems, but creates much needed family sustaining jobs and improves the economy. That's where they come in to help build the market for new materials and product ideas. To accept and incorporate recycled products into landscapes encourages architects, builders and homeowners to specify recycled products for their homes and businesses.
From fire pits to fish ponds, garden glass mulch offers countless opportunities for exquisite outside (and even inside) décor. Case in point: a mermaid swims in blue glass mulch. Glass mulch also proves to be an easy transformation tool for parts of the home that may not be up to par. Zen gardens look elegant with a circle of PA Blue Glass sand and statues. Glass mulch has been used as a garden pathway to reduce weeds and slugs (which do not like going over the glass) in addition to replacing leaky old bird baths and faux fountains. The best part: glass mulch makeovers are virtually maintenance free (think no mosquitoes, bugs and other uninvited guests). When it comes to interior decorating, glass mulch can transform terrariums, aquariums, flower arrangements and picture frame borders.
Close the Loop Company introduced landscape garden glass colors in small, medium and large sizes. The plant operates several glass-melting furnaces and colors the glass with proprietary methods and formulations. From clear Caribbean crystal turquoise to cranberry red and bright yellow hues, these garden glass colors work for every design aesthetic. The glass mulch comes in multiple sizes (anywhere from fine sand to large golf-ball like pieces). The smaller sizes can be used in between stepping stones to add a splash of color, or the terrazzo glass can be embedded in concrete walkways, floors, countertops, workshop tabletops, and more. The landscape glass mulch can be used loose on a pathway or bound together with an epoxy adhesive if a solid surface is desired. The loose landscape glass stays in place well when using a leaf blower to remove leaf debris from the glass mulch. By adding a statue like a mermaid swimming, fisherman fishing, alligators or other statues makes the vibrant blue glass a unique conversation piece.
In an era of extreme makeovers, there's no material more necessary for dingy fireplaces and outdoor fire pits than glass. Glass replaces fire logs and cinders with a customizable array of colors. Suggestions include Sunshine Mix in a living room, Caribbean Mix near a zero-edge swimming pool or Amber near a rustic flagstone patio. Natural gas fuel provides a consistent and clean-burning full with a flame temperature well below the softening or melting point of glass. Custom homes, restaurants and resorts have incorporated glass in a stunning and intriguing atmosphere.
Since glass takes over 1,000 years to decompose, glass mulch décor never needs to be replaced, nor does it fade from sunlight exposure. Incorporating glass mulch can enhance your home and shelter lifestyle without harming the environment… making it a great first impression for your guests, not to mention a lasting one.