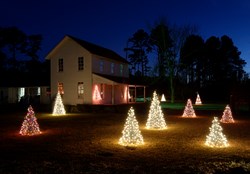 His Crab Pot Trees ® were recently featured in the December 2013 issue of Southern Living magazine.
Smyrna, NC (PRWEB) November 29, 2013
Nine years ago, in a tiny fishing village in Davis, NC, Neal "Nicky" Harvey received a letter that would forever change his life. It came from the U.S. Patent Office confirming that he was the owner of U.S. Patent # 6,773,134 for a Christmas tree he has created from crab trap (crab pot) wire, pre-lit with strands of lights and made so that it would ship folded flat, could be easily opened for display and would fold back flat to 1/10th of it's display size for storage after use.
Unlike traditional pre-lit trees, almost every light can be seen throughout the tree providing a fully illuminated Christmas tree shape. The folds flat feature appeals to everyone, providing so much more storage space in closets and garages.
In 2004 he was just making trees for friends, family and a couple of local retailers. In 2013 alone his patent has brought in sales of over 50,000 trees after having licensed his sales and distribution rights to another area business, Fisherman Creations, Inc. of Smyrna, NC.
His Crab Pot Trees ® were recently featured in the December issue of Southern Living magazine and will be appearing for a week on the popular "Made in the Carolinas" segment on the Time Warner cable network.
Crab Pot Trees ® have been on display at prestigious places such as the Biltmore Estate in Asheville, NC and the Grand Hotel in Fairhope, AL. The company also recently received an online order via PayPal to grace the estate of a prominent Northeast U.S. billionaire's family.
American success stories are always good to hear. Christmas makes them even more special.
About Fisherman Creations, Inc.
Fisherman Creations is a U.S. manufacturer of decorative Christmas products, with the bulk of its business coming from their patented product Core Sound Crab Pot Trees ®. The Trees are made of durable PVC coated crab trap wire used in the commercial crabbing industry and are strung with mini Christmas lights, then folded flat before being shipped for customer display. After display, the trees can be easily folded flat for space-saving storage. For more information about Fisherman Creations visit http://www.crabpottrees.com/ or follow us on You Tube or Facebook.