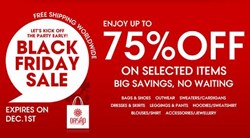 OASAP Crazy Cyber Monday Sales--Up to 75% off; more than 30,000 women clothing; free shipping worldwide.
New York (PRWEB) December 01, 2013
Consumers who are looking for unbelievable sale prices will find it possible with OASAP's unlimited Black Friday big sales stretching until Cyber Monday. The all-time limited specials range from winter coats and cardigan sweaters to winter boots and fashion bags, the winter must-haves only a single click away.
Cyber Monday is one of the biggest shopping days, and consumers are lining up for super deals (up to 75% off from Oasap.com).
"It's important that we provide our customers the best prices during the holidays, so they could enjoy shopping with great deals," says OASAP Marketing Director. "We're sure Oasap.com can bring the latest fashion to our customers, and also help them to save a lot of money especially when talking about budgets".
Oasap.com's homepage is now providing a lot of campaigns to consider for this festive seasonal holiday. Such as, save up to 50% off for winter coats, save $300 directly for fur coats, and big sale for Christmas products. Consumers can also check out their favorite product categories from the site's search bar and by browsing through the various sections.
About Oasap.com
OASAP is: A High-street Fashion Online store
OASAP Likes to: Deliver fashion & love!
OASAP is a global online store dedicated to high-street fashion by offering various kinds of women's apparel, bags, shoes, jewelries, accessories, beauty products, etc.
OASAP was founded in late 2011, and has already grown to be the leader of high fashion online stores. It keeps updating products at a high rate with more than 300 new products each week. The products mentioned before definitely belong to the latest fashion trend.