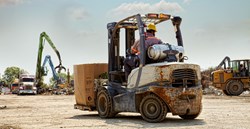 Dallas, TX (PRWEB) December 01, 2013
Dallas-based Gold Metal Recyclers has added a new recycling affiliate in Midland/Odessa, Texas. Midessa Recycling is uniquely positioned to be a recycling hub for oil, gas, and manufacturing facilities in West Texas.
As the leading metal recycling facility in the market, Midessa Recycling will now have access to additional resources that will allow it to better serve its clients and partners in the Midland/Odessa market and throughout the Permian Basin.
Founded in 1976, Gold Metal Recyclers is a family owned and operated company, employing over 400 workers at nine recycling facilities located throughout the southwestern U.S. and Mexico.
The company is also committed to being a good corporate neighbor, and has received numerous rewards and accolades for its charitable giving to local schools and civic organizations in the communities it serves.
Gold Metal Recyclers was selected as one of Dallas Business Journal's Top 100 Private Companies in 2010, and was the 2011 recipient of The Spirit of Centennial Award for community service to the Fair Park area of Dallas. Other charitable activities included sponsoring the Recycle Reef exhibit at the Perot Museum of Nature and Science earlier this year, and an ongoing partnership with the Dallas Area Habitat for Humanity.
Gold Metal Recyclers' philosophy is best summed up by co-founder Neil Goldberg who says, "We treat our employees and neighbors like family. When we take care of each other, we all succeed."
As one of the nation's largest privately owned metal recycling companies, Gold Metal Recyclers processes hundreds of millions of pounds of recycled metal and electronics annually. Gold Metal Recyclers' corporate partners include a number of Fortune 500 companies, including Raytheon, Vought Aircraft, Coca-Cola, Lockheed Martin and Alcoa Aluminum.
Gold Metal Recyclers has been selected for a number of high-profile recycling projects including recycling 75,000 aluminum bleacher seats from the Cotton Bowl Stadium, located on the State Fairgrounds in South Dallas. Gold Metal Recyclers was also the recycling contractor of record for the Reunion Arena and Texas Stadium demolition projects.
About Gold Metal Recyclers:
Founded in 1976 by Kenny and Neil Goldberg, Gold Metal Recyclers has grown from an aluminum can recycling business with three employees to become one of the nation's largest privately-held commercial metal recycling companies with over 400 employees with locations throughout the Southwest U.S.