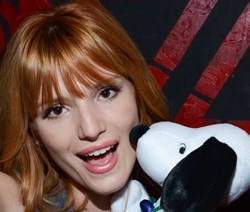 Nobody brings joy to the holiday season quite like the Peanuts gang.
New York (PRWEB) November 29, 2013
The Christmas season is upon us and Charlie Brown will soon be shopping for his sweet and pathetic little Christmas tree, the Peanuts gang will be dancing to Vince Guaraldi's classic music, and Linus will be explaining "what Christmas is really all about."
Christmas is special to Peanuts and this year the gang has a host of activities planned that bring out the 'festive' in the festivities.
Social Season: Teen star Bella Thorne (Disney Channel's "Shake It Up" and Hollywood Records' recording artist) and Snoopy will co-host a Peanuts-themed Christmas social media party, swapping Christmas memories and Peanuts stories with Thorne's more than 4.7 million Twitter followers and 2.2 million Instagram followers.
WHEN: Sunday, December 1, 8:00pm EST/5:00pm PST
WHERE: #SnoopyChristmas
Peanuts Plays Carnegie Hall: Carnegie Hall's Weill Music Institute presents A Charlie Brown Christmas in a special holiday Family Concert with The New York Pops and Music Director Steven Reineke. This staged concert version of Charles M. Schulz's iconic television special brings the beloved Peanuts characters to life with voices by child actors from the TADA! Youth Theater and special choreography performed by New York Theatre Ballet's talented young dancers. Renowned puppeteer and actor John Tartaglia (Avenue Q, Sesame Street) narrates the heart-warming story, underscored by the music of Vince Guaraldi, featuring the dynamic Essential Voices USA led by Judith Clurman.
WHEN: Saturday, December 21 at 2:00 p.m.
WHERE: Stern Auditorium/ Perelman Stage
Under the Tree: The beloved Peanuts characters are yours to take home in a variety of special gifts available at retailers nationwide. Among the many Peanuts goodies:

A special-edition Peanuts-decorated Lionel train set includes 5 cars as well as track pieces to delight collectors of all ages. (lioneltrain.com)
The Color & Play Peanuts house allows children to take their imagination to another level as they color, paint and personalize their imaginary home. The Peanuts House stands over 5 feet tall, is made of 100% sturdy cardboard and is environmentally friendly. Available at CVS stores.
Five adorable plush figures (Snoopy, Charlie Brown, Linus, Lucy and Woodstock) available from Kohl's Department stores. Through the Kohl's Cares® program, 100 percent of the net profit from the collection supports children's health and education initiatives nationwide. Just $5 each, available at Kohl's stores and kohls.com.
Special Time: You can watch the Peanuts gang to your heart's content this season, with not one but three Peanuts specials airing on ABC in December (all times are EST/PST on ABC):
"A Charlie Brown Christmas" airs Monday, December 2nd from 8–9 p.m.
o The special will be followed by CMA Country Christmas, featuring Jennifer Nettles performing "Christmas Time Is Here." The special will repeat on Thursday, December 19 from 8–9 p.m.
"I Want a Dog for Christmas, Charlie Brown" airs Friday, December 20th from 8–9 p.m.
"Happy New Year, Charlie Brown"/"You're a Good Skate, Charlie Brown" airs Monday, December 30 from 8–9 p.m.
"Nobody brings joy to the holiday season quite like the Peanuts gang, and we're delighted to offer fans so many ways to celebrate this year," says Leigh Anne Brodsky, Managing Director of Peanuts Worldwide. "You can chat with Snoopy and Bella Thorne on Twitter, join a musical celebration at Carnegie Hall, enjoy a multitude of Peanuts gifts, and of course, revel in the annual tradition of the iconic TV special. Charlie Brown, Snoopy and all the beloved characters are guaranteed to put you in the holiday spirit!"
-The End-
About Peanuts Worldwide
The PEANUTS characters and related intellectual property are owned by Peanuts Worldwide LLC, a joint venture owned 80% by Iconix Brand Group, Inc. and 20% by members of the Charles M. Schulz family. Iconix Brand Group, Inc. owns, licenses and markets a growing portfolio of consumer brands including: CANDIE'S (R), BONGO (R), BADGLEY MISCHKA (R), JOE BOXER (R), RAMPAGE (R), MUDD (R), MOSSIMO (R), LONDON FOG (R), OCEAN PACIFIC (R), DANSKIN (R), ROCAWEAR (R), CANNON (R), ROYAL VELVET (R), FIELDCREST (R), CHARISMA (R), STARTER (R), WAVERLY (R), ZOO YORK (R), ED HARDY (R), SHARPER IMAGE (R), UMBRO (R), LEE COOPER (R), ECKO (R), and MARC ECKO (R). In addition, Iconix owns interests in the ARTFUL DODGER (R), MATERIAL GIRL (R), PEANUTS (R), TRUTH OR DARE (R), BILLIONAIRE BOYS CLUB (R), ICE CREAM (R), MODERN AMUSEMENT (R), and BUFFALO (R) brands. The Company licenses its brands to a network of leading retailers and manufacturers that touch every major segment of retail distribution from the luxury market to the mass market in both the U.S. and worldwide. Through its in-house business development, merchandising, advertising and public relations departments Iconix manages its brands to drive greater consumer awareness and equity.
About Bella Thorne
Bella Thorne, star of the hit Disney Channel original series Shake It Up has sky rocketed to fame with her tween/teen fans playing aspiring dancer 'Cece Jones'. Shake It Up originally premiered with 6.2 million viewers. She recently returned from South Africa where she was filming the Adam Sandler and Drew Barrymore comedy Blended in which Thorne stars as Sandler's daughter and has wrapped production on Disney's Alexander and the Terrible, Horrible, No Good, Very Bad Day as well as the independent film Big Sky opposite Kyra Sedgwick. She is currently in production for Silver Pictures' Home Invasion and Thorne has also signed a three book deal with Random House titled Autumn Falls. The first book is scheduled to be released in Summer 2014.
The triple threat recently expanded her talent in the music arena with her first solo single TTYLXOX which was included on the Shake It Up soundtrack and not only making it on the Billboard 100 charts but has sold close to 500,000 singles to date. Thorne has been topping the charts at Radio Disney with Bubblegum Boy and recently collaborated with IM5 (brought together by American Idol's Simon Fuller, celeb blogger Perez Hilton, and tour producer Jamie King) with the single Can't Stay Away. Following the successful release of her independent tracks, Thorne embarked on a new journey and recently signed with Hollywood Records with new music slated for Spring 2014.