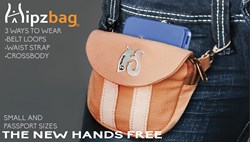 When you need your hands for Shopping!
Las Vegas, NV (PRWEB) November 29, 2013
Now that the turkey is gone and the shopping begins, Hipzbag®, the waist bag offering a bit of fashion, offers a one day 40% offer site wide. Enter Discount code "THANKFUL" at the checkout. Get hands free for the holiday shopping and traveling! No more putting that big bag down to only lose it or have it stolen for someone else to take. No more carrying that heavy big bag that causes neck and shoulder pain.
Hipzbag® is the first of its kind to offer a fashionable and "funktional" hands free solution to the cellphone accessory world. "Small in size but big in value, Hipzbag® will make a great stocking stuffer and gift item for all those cellphone lovers like myself," says founder Kathy Dahl-Crifasi. "Tis the season and we want to thank our loyal customers and give new customers a chance to try out our product. Hipzbag® is a solution for those difficult to buy for friends and family members."
"With two sizes, the Original and larger Passport size, this is a day we can give our customers a great deal so they can get one for each of their favorite people," says Crifasi. Hipzbag's demographics hit almost every age range from young children to age 99 and even offers a small line for the men in your life. Hip Shift Corp. also offers a line of other Funktional and fashionable gift giving items that can be found on their website, http://www.myhipzbag.com.
About Hipzbag®
Designed to ride on your hip, by attaching to belt loops or with a thin waist strap, Hipzbag® features a zippered compartment in front, perfect for carrying money, keys, iPod, cell phone, lipstick, etc. An open back pocket rests against your hip, fitting your phone snug, while allowing for easy access and ability to feel your phone vibrate so you never miss a call. The target market is very broad: cellphone lovers, travelers, event goers, golfers, dog walkers, hikers, bikers, casino goers, college students, people on the go or anyone who wants their hands free while keeping their cellphone and essentials attached. Hipzbag® comes in different sizes, shapes and colors with lines for both men and women.
Creator, Kathy Crifasi, computer nerd by trade, created the Hipzbag® purely out of necessity. Walking around holding her cellphone, wanting it to be attached to her body—Kathy could not find a solution, so she designed one. Hipzbag® is a product of Hip Shift Corp, a company bringing to market functional fashion products. Shop online at http://www.MyHipzbag.com.