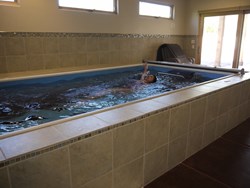 (PRWEB) December 01, 2013
Jim Iden and Vangie Samora's desire for sustainability and efficiency led them to make several innovative design choices for their new home.
In researching exercise options, Iden—a long-time lap swimmer—found the Endless Pool.
The couple's home features 28 solar panels that generate enough power for the entire home, swimming pool included.
"We have both long valued swimming for its health benefits and for my wife, Vangie, was interested in having a small pool that we could use for exercise now and in the future," said Iden.
"I was definitely interested in being able to swim against a current. So, we started doing some research and hit upon the Endless Pool."
Not only did the Endless Pool work into the couple's fitness plans, but they were able to execute an installation that fit seamlessly into their high-efficiency model.
"We're environmentalists at heart and energy-efficiency is important to us," said Iden. "We made the pool as energy-efficient as we could by building a tight, well insulated room for it."
With a well-insulated room and photovoltaic panels to supplement the Endless Pools standard, energy-efficient electric heater, the couple put together an ideal space for exercise and relaxation.
Because of the modular construction of the Endless Pool and a range of custom features, the pool can be tailored to the precise design specifications of the available space and standards.
And with a swim current, no flip turns are necessary, meaning their compact pool provides continuous swimming and exercise, in addition to relaxation.
Iden and Samora, who typically use the pool five times a week, have even found unexpected benefits for their home aquatic center.
"The pool room opens onto a covered patio, so the pool becomes a focal point of get-togethers with friends. We can swim a little, sit around and eat on the patio, then swim some more."
ABOUT ENDLESS POOLS:
Endless Pools, established in 1988, has shipped over 20,000 products worldwide, with customers such as Olympic Gold Medalist Rowdy Gaines. A compact, customizable outdoor or indoor pool can be installed for commercial or residential use. With a series of innovative products and an adjustable, fast, smooth swim current, the product can be tailored for open water training, rehab or family fun.
For more information, visit http://www.endlesspools.com or contact Rob Shaeffer at 610-497-8676.