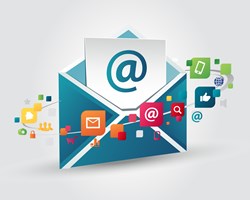 'Give them quality. That's the best kind of advertising.' - Milton Hershey
Denver, CO (PRWEB) December 18, 2013
Email Marketing has never taken a back seat to Social Media when it comes to effective Internet Marketing. Email is still the foundation of direct customer communication, notification and retention. Many company Facebook Pages and other social media platforms specifically try to capture email information and an opt-in by offering exclusive specials, discounts and other enticements.
A carefully planned and engaging email strategy is one of the most effect ways to develop new and repeat business. Lead generation, the life blood of most businesses, starts with accurate market segmentation. Using appropriate incentives to qualify, build and then segment your email list will ensure that each message sent is targeted to the most receptive audience.
When it comes to increasing email conversions, the relevancy of your message is key. Sharing worthy content to your properly segmented lists becomes easy based on specific interests. Your ability to appeal to qualified customers has now taken a quantum leap. Creating a library of articles, white papers, reviews and targeted promotions will enable you to publish content that will get opened, read and shared.
Less is more. The days of subscribers reading through long news letters are gone. Keeping an email message short and to the point using headlines, subheadings, images an or video is more in line with the way readers scan online content.
There are a number of things you can do to integrate your email and social marketing; "Like" and Win, Competitions, Prize Drawings, Share & Connect and provide incentives etc. Done well, email and social can compliment each other, grow fans and encourage content sharing.
Make it mobile. Starting in June of this year, more than 50% of all Internet access in North America came from mobile devices. Preparing emails for mobile viewing is now vital due to the number of people reading their emails from a smart phone. Designing for mobile optimization means your messages need to be more focused and responsive.
Some of your contacts may take a little more nurturing than others. The stronger your relationship is with your email data base, the more valuable it becomes to your business.
1 Click Solutions offers a "holistic" approach because effective Internet marketing now requires coordinated strategic elements all working together with a measurable return on the investment. A holistic concept takes into account #AdativeSEO & #Web3.0 (Mobile) that must include responsive website development with strong calls to action and conversion architecture, fresh relevant keyword reach content, cutting-edge SEO strategies, mobile websites and apps, social media management and online review & reputation management. While the digital has become critical, keeping in mind the effective traditional analog media elements that may be well established for a company must be maintained and coordinated for strong brand recognition and securing the market share a company has earned the old fashioned way, this is another element of Holistic Internet Marketing.
1 Click Solutions, LLC is an Authorized Constant Contact Partner in Denver, Colorado.
#Holistic Internet Marketing Denver