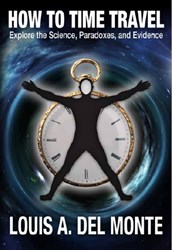 According to Kirkus, "Del Monte does an excellent job of exemplifying the scientific method in action."
Minneapolis, MN (PRWEB) December 11, 2013
Louis A. Del Monte, author of the recently released book entitled, How to Time Travel, offers the book review from Kirkus Reviews as a helpful aid to potential readers who are interested in the science of time travel.
Founded in 1933, Kirkus has been an authoritative voice in book discovery for 80 years and known for giving readers unbiased, critical recommendations they can trust. According to Kirkus, "Time travel—its possibilities, potential and primary obstacles—gets a levelheaded review from a physicist in this lucid, optimistic book." Kirkus added, "This articulate, principled use of scientific methodology offers a clear, rational examination of an intriguing concept."
How to Time Travel is available on Amazon.com in both paperback and Kindle versions. Author Del Monte hopes to heighten readers' interest and open their minds to the theories and evidence of time travel.
How to Time Travel is organized into three major sections including time travel evidence, the science of time travel, and building a time machine. It thoroughly explains how Einstein's theories of relativity underpin time travel and includes detailed proposed methods of time travel. The book also makes several new contributions to the field of time travel research, including the Existence Equation Conjecture, the Grandchild Paradox, the Preserve the World Line Rule and the Time Uncertainty Interval.
The book is written in a conversational style so that almost anyone can understand the mysteries and science without formal scientific training. For the serious researcher, equations and mathematical derivations are included in the appendices.
Louis A. Del Monte is an author, physicist, featured speaker and the Chief Executive Officer of Del Monte & Associates, Inc. For more than 30 years he was a leader in the development of microelectronics for IBM and Honeywell before forming a high-tech e-marketing agency and authoring Unraveling the Universe's Mysteries and How to Time Travel. He has a B.S. degree in Physics and Chemistry and an M.S. degree in Physics, and developed several patents fundamental to the fabrication of integrated circuits. Del Monte is the recipient of the H.W. Sweatt Award for scientific/engineering achievement and the Lund Award for human resource management excellence.
Louis Del Monte's Klout.com score, an independent group that measure online influence, indicates he is in the top 5% of online science thought leaders worldwide. Over 3000 visitors a month visit his blog, Science Questions & Answers (http://www.louisdelmonte.com), for exciting science videos and articles. Over 16,000 science enthusiasts follow Louis Del Monte on Twitter (https://twitter.com/delmontelouis1). Louis Del Monte's YouTube channel (http://www.youtube.com/LouisDelMonte) has over 44,000 video views. On Facebook (https://www.facebook.com/DelMonte.Louis), Louis Del Monte has over 6000 "likes" and reaches up to 100,000 visitors per week.
For more information regarding interviews and keynote addresses please contact Louis Del Monte by phone at (800) 576-1643 or email at ldelmonte(at)delmonteagency(dot)com.