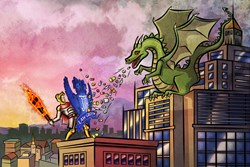 Inclusion in the The National Trial Lawyers: Top 100 was an honor and the result of hard work, industriousness in litigation and a passion to obtain justice for those that have been wronged.
Jersey City, New Jersey (PRWEB) November 29, 2013
The National Trial Lawyers: Top 100, selected attorney Jason T. Brown, of JTB Law Group, LLC for his work in 2013 as a Plaintiff's Trial Lawyer. "Once again, I am very much honored to receive this distinction. I love helping people with their cases and to be honored for the countless hours we put in to try and make each case a success is gratifying. I mention 'we' because every attorney has a team behind them and our team here is integral to our success."
The National Trial Lawyers: Top 100 is an invitation-only organization composed of the premier trial lawyers in the nation who meet stringent qualifications as civil plaintiff and/or criminal defense trial lawyers. Selection is based on a thorough multi-phase process which includes peer nominations combined with third-party research. Membership is extended solely to the select few of the most qualified attorneys from each state who demonstrate superior qualifications of leadership, reputation, influence, stature and public profile.
Jason T. Brown was formerly a Special Agent and Legal Advisor with the Federal Bureau of Investigation (FBI). After serving as a well respected Agent he became managing partner of a Manhattan based law firm that handled mass torts and class actions and now he heads a firm that fights for people's rights nationwide. "Bad people do bad things 24/7, that's why we work to fight back 24/7," Brown stated. "The type of work we do handling complex litigation is intense but rewarding when we help people level the playing field against some of the biggest companies represented by the most powerful law firms. I love the challenge and have the energy and desire to win. The bigger they are, the harder the fall."
In the past year the firm's migrated from New York City to Jersey City, New Jersey without missing a beat. Mr. Brown is noted for commencing some of the first lawsuits against new generation birth control products which he alleges may be less safe than earlier generations. One of the litigations he remains active in is the Yaz lawsuits which resulted in over a billion dollars of recoveries for women who allegedly sustained blood clots, like deep vein thrombosis, pulmonary embolisms, strokes, sagital venous thrombosis, blindness or death. The allegations stem from a hormone within such products as Yaz, Yasmin, Ocella, Gianvi and BeYaz which Mr. Brown alleges are twice as deadly as earlier generations of birth control. "New products should be safer, not less safe," Mr. Brown states, "The pharmaceutical companies should come up with products that have half the risk as earlier generation, not double the risk. The FDA is asleep at the helm."
Other products liability cases the firm handles include investigations into alleged injuries from the Da Vinci Surgical Robot, T rans Vaginal Mesh (TVM), Benicar, Mesothelioma, SSRI birth defects, and Risperdal gynecomastia. The firm also handles a variety of class actions, especially on behalf of workers who are not fully paid for all the hours worked or abruptly terminated en masse (WARN ACT). The firm also handles other high profile and catastrophic cases and travels nationwide to prosecute cases. "Inclusion in the The National Trial Lawyers: Top 100 was definitely an honor," Mr. Brown affirms, "and was the result of hard work, industriousness in litigation and a passion to obtain justice for those that have been wronged."