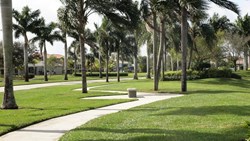 Wellington does a stellar job of balancing the breathtaking natural features of the area with activities for all ages.
Wellington, FL (PRWEB) November 29, 2013
Voted as one of the "Top 100 Best Places to Live 2010" by CNN Money Magazine, village of Wellington does a stellar job of balancing the breathtaking natural features of the area with activities for all ages. It's no wonder the village is the location of choice for numerous events year round.
Approximately 4,000 high school girls are participating in the National Hockey Festival, held in at the International Polo Club Palm Beach in Wellington, Florida, this weekend. About 260 girl's teams from all over the country have traveled to South Florida to compete in a tournament that started yesterday and runs through Sunday. Coordinators of the National Hockey Festival project a $9 million economic boost from the tournament.
In addition to the players, parents, friends, coaches and other fans of the sport will congregate in Wellington to support the girls. This is the second year the National Hockey Festival is hosted by the International Polo Club. Admission is free and six of the eight fields have been converted and split up into 30 pitches for the players.
A recent article in the Palm Beach Post, states, "The $9 million economic boost that organizers project the tournament will provide provides to Palm Beach County would make it comparable to those provided by other top sporting events — Wellington's Winter Equestrian Festival and polo matches, The Honda Classic golf tournament in Palm Beach Gardens, the Champions Tour's Allianz golf tournament in Boca Raton and spring-training baseball in Jupiter." The economic benefits are great incentive for the County and local businesses to do everything possible to accommodate for the event.
Wellington, Florida is the most populated village in Florida, but not because houses are piled on top of each other as you see in some heavily populated areas in other parts of the country. Wellington is known for its equestrian community, multiple recreation centers, several public parks, beautiful homes on spacious lots, and plenty of family friendly activities, events, and businesses. For those who call Wellington home, it is known as a village that quietly draws wealth and is the perfect place to raise a family.
The glamour of Palm Beach real estate extends to the western village of Wellington, where the development of shopping centers, malls, restaurants, and more really only began in December 1995 when the village was incorporated. Seeing Wellington is falling in love with the area and all it has to offer. Often a visit is all it takes for someone to start scouring the area for a new home, whether seasonal or primary residence.
Distinct Estates sells homes in highly-desirable areas all over Florida, including Wellington, Palm Beach, Tequesta, Manalapan, Fort Lauderdale and Miami. Distinct Estates represents both buyers and sellers who are in search of their Florida dream home. The reputable Florida real estate agency is composed of highly experienced realtors who have received many accolades for their level of professionalism and results.