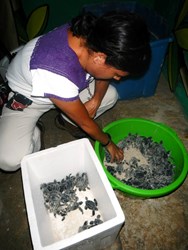 Sea Turtle Preservation
Cancun, Quintana Roo, México (PRWEB) December 03, 2013
Experiencias Xcaret, through its social partner Flora, Fauna y Cultura de México Asociación Civil, coordinates the most important turtle preservation program in Mexico. During 2013, it reached the record of 6 million turtles released into the sea, which proves the scope of the efforts made over three decades in Cancun and the Riviera Maya, Quintana Roo.
It is estimated that for every thousand sea turtle hatchlings, only one will reach adulthood; though the figures are gradually changing. The results obtained so far show that the efforts are showing good results.
From 1996 to 2012; 88,190 sea turtle nests were successfully protected. Also, in the same period 125 leatherback; 814 hawksbill; 1,723, 103 loggerhead and 4,475,166 white turtle hatchlings were released. In total, thanks to this program 6,199,208 sea turtle hatchlings have been released.
Thanks to the auto-graft program, which was conceived as a way to mark hatchlings shortly after birth in order to identify them on their return to the beach to procreate, during the period from 2004 to 2012, 57 adult turtles with their graft mark have been observed returning to the beach where they were born to lay their eggs. The age of these turtles ranges between 13 and 22 years old.
During this year, we are expecting the visit of the turtle that carries the metal mark J3630, the first within this program that returned to spawn at the age of 13. Since 2004, this specimen has returned to the beach where it was born a total of 22 times, to build 19 nests and give life to one thousand 427 hatchlings. Its arrivals to the beach during breeding season are on average every 2 years.
Offshore Release Program
In a parallel effort, within Xcaret facilities, a program is being developed to ensure that the turtles survived beyond the critical stage of 15 months of age. Of the nests that are protected each year, an average of 200 specimens remain in Xcaret to be cared for and fed until they are in the best conditions to survive in marine life. Then they are released offshore where the possibilities to become adults are much higher.
Thus, the release season of the 15-month-old turtles happens during the months of February and March within Xcaret facilities. Groups of students and visitors who come to the Park are invited to participate in the release of these specimens, as part of an intense awareness campaign about the importance of caring for this species. The release season ends in late March.
In addition, Xcaret has a specialized medical facility for specimens with dehydration problems, injuries caused from other animal's attacks or by humans that practice poaching. Special techniques have been developed like the serious wound treatments with honey, which is a very effective natural antiseptic.