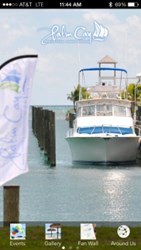 We've had such great success with our Facebook page with friends and fans following events, activities, images and news items we post, that we decided to take it one step further by adding an app. -- Director of Sales & Marketing Zack Bonczek
Nassau, Bahamas (PRWEB) December 03, 2013
The Palm Cay app is the latest innovation by the developers of the nearly 70-acre seaside community on New Providence's southeastern shore.
"We've had such great success with our Facebook page with friends and fans following events, activities, images and news items we post, that we decided to take it one step further by adding an app," said Palm Cay Director of Sales & Marketing Zack Bonczek. "The app allows a homeowner to reserve a tennis court for night play, for instance, or an interested party to book an appointment to see a lot or townhome. When the Billfish Grill opens, you'll be able to check lunch and dinner specials, reserve a table, and even order ahead for take-out. It's all about making it easy to keep in touch and feel connected," added Bonczek.
Developers of the community with some 300-plus home sites, townhomes, condos, and plans for other residential offerings already reach out through every social media available – Twitter, Pinterest, Instagram, Facebook. Very soon, they will make another appearance in a large city before millions. That's hush-hush for now, says Bonczek, who promises to share the information the minute it goes public.
"We're all about building a community and the best way to do that is make it easy and convenient for everyone to connect," says Bonczek. Through Facebook and word-of-mouth alone, Palm Cay was drawing upwards of 80 people to its Friday night family happy hours and Saturday lunches and beach days. Those activities are temporarily suspended because of the construction as the three-storey clubhouse is being converted into a full-fledged restaurant. To be called Billfish Grill, the restaurant will be operated by Lise Watson-Russell, who founded Chives at the New Providence Community Centre, Blake Road, and restaurant and hospitality consultant Peter Rounce whose experience includes Graycliff.
The $200 million fully-funded secure development is home to the island's largest mid-size boat marina, the 194-slip Marina at Palm Cay, as well as residences, pools, two lighted tennis courts, Nassau's first custom-built family playground and 1,200 linear feet of white, sandy beach. All roads, lights and utilities are in place and more than half the home sites have been sold. Phase I of the first condo offering, The Anchorage, was oversubscribed when the announcement that reservations were open was made.
About Palm Cay:
Palm Cay is a 69-acre residential community along New Providence's southeastern shore in Nassau, Bahamas. It features over 300 properties, including single family lots, townhomes, and condominiums along with a 194-slip, deep water, full service marina. Additional amenities include a clubhouse, two tennis courts, playground, swimming pools, and 1,500 feet of oceanfront with a 1,200 foot long beach. Future plans for Palm Cay include a fitness center and full restaurant.