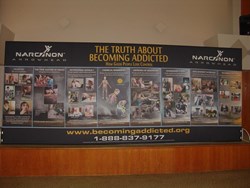 Narconon Arrowhead, a drug rehabilitation facility in Oklahoma, has recently released an informational graphic to help promote their free booklet, 'The Truth About Becoming Addicted'.
Canadian, OK (PRWEB) December 02, 2013
When someone around becomes addicted to drugs, one may notice sudden and dramatic behavior and personality changes. Individuals may wonder why they seem serious, sad or angry all the time, why they have lost their sense of humor and interest in favorite activities, and why they are constantly uncomfortable both physically and emotionally. If someone has never personally experienced the powerful effects of drug addiction, they may find it very difficult to understand why the individual would choose to continue a habit that is obviously causing them physical and emotional pain, and may find themselves wondering, "Why don't they just quit?" Unfortunately, this simple and innocent question reveals how little is known about the truth of drug use and addiction, and what it takes for an individual to successfully recover from substance abuse. Considering the extremely dangerous and deadly consequences of substance abuse, it is vital that more individuals become educated in the truth about addiction.
"The Truth About Becoming Addicted"
Narconon Arrowhead, a drug rehabilitation facility in Oklahoma, has recently released an informational graphic to help promote their free booklet, "The Truth About Becoming Addicted". The fully illustrated graphic reviews the basic reasons why an individual may turn to drugs, how drugs can poison the user's body and cause nutritional deficiencies that may lead to major health problems, how residual drug toxins can cause cravings for more of the drug, how drugs can numb both physical and emotional senses, how drug use can cause an individual to withdraw from relationships and life, how drug use can eventually take over the individual's life - leading them either to prison or death, and most importantly, how an individual can overcome drug use problems and regain a healthy, productive life with the right tools and rehabilitation program.
The promotional graphic is a perfect summary of the booklet itself, which is designed to enlighten the reader on the very nature and parts of substance addiction. Like trying to build a road without knowing where to start, an individual cannot hope to resolve their problems with addiction unless they understand the very basic causes of addiction. This simple concept may very well explain why some individuals attend rehabilitation programs and go on to relapse into drug use - they did not confront and fully address the reasons why they turned to drug use in the first place. Not only are ineffective stints in rehabilitation facilities an expensive cycle, they can also be very depressing and disheartening to the addicted individual, who may begin to lose hope that there is a solution to their drug problems. "The Truth About Becoming Addicted" seeks to renew this hope.
About Narconon Arrowhead
Narconon Arrowhead is a drug and alcohol rehabilitation treatment facility in southern Oklahoma. The Narconon program is a holistic and unique approach to drug addiction, and is designed to help individuals fully address and resolve the mental, emotional and physical causes and effects of drug use. Based on the drug rehabilitation research and developments made by American author and humanitarian L. Ron Hubbard, the Narconon program empowers individuals to confront and resolve the underlying causes of their drug use and gives them valuable life skills that can help them move on to productive, drug-free lives.
Narconon Arrowhead is the largest Narconon facility in the world, and has helped over 10,000 people overcome substance abuse problems since its inception 22 years ago Independent research through outcome studies, staff and client surveys and Narconon reviews indicates that Narconon Arrowhead graduates have a 70% success rate of going on to live drug-free lives.
Narconon Arrowhead firmly feels that educating individuals in the truth about drugs and addiction is a powerful step towards preventing and resolving drug addiction problems, and to this end, "The Truth About Becoming Addicted" is free for anyone who needs a copy. Simply visit http://www.becomingaddicted.org/ to place your request.