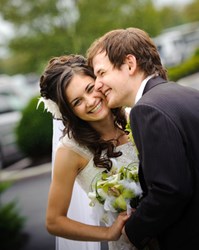 My wedding turned out perfect! I loved each of the wedding professionals I worked with. I am glad I was able to find reviews about these wedding professionals before we hired them.
Salt Lake City, UT (PRWEB) November 30, 2013
There are over 4,000 wedding professionals in the Salt Lake area offering many different services to brides. With the help of Utah's brides, Salt Lake Wedding Reviews has rated hundreds of wedding professionals in the Salt Lake area.
As we approach the year's end, Salt Lake Wedding Reviews has released these ratings and reviews to the public. Brides everywhere can now view the reviews and ratings that have been left by past brides. Brides can see which businesses received 5 star ratings for 2013.
"We want brides to have the best wedding professionals possible. There are hundreds of trusted wedding businesses in Utah. We do our best to help brides find the wedding businesses that are best suited for their wedding. Brides can use our site free of charge. Our goal is to help brides find the best suited wedding professionals for their special day." –Ryan Swayt, Co-Owner
For example, there are over 800 professional wedding photographers in the Salt Lake City, Utah area. This makes it difficult for brides to find the photographer that is best suited for their own wedding. Brides can access ratings and reviews to find out which of these photographers have pleased brides the most.
With close to 100 bridal shops in the Salt Lake area brides can be overwhelmed when searching for their wedding gown. With just a few clicks of the mouse, future brides can find Utah's top rated bridal shops.
SaltLakeWeddingReviews.com was created in 2012 to make wedding planning easier for brides. Brides can research Salt Lake wedding professionals on one easy to use website. Every day more brides are turning to the internet for their wedding planning needs.
This unique wedding planning tool is completely free and accessible for brides everywhere. Wedding planning education is also offered through their wedding blog. From finding a wedding cake specialist to booking a musician, Utah brides can now access this years ratings and reviews to find top rated wedding professionals.