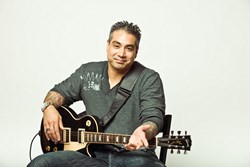 The goal is to make every student a musician.
Fort Lauderdale, FL (PRWEB) December 01, 2013
Feel like mastering the guitar but don't know where to turn? Never picked up an instrument before? Know how to play but need some direction? Miami now has access to one of the area's most experienced guitar teachers. Dyce Kimura, an expert Miami guitar teacher, is announcing the launch of his new website offering guitar lessons and educational videos.
As the New Year approaches, Dyce Kimura is expanding the scope of his teaching career to provide a range of Miami guitar lessons. When asked about the launch of his new website, Dyce Kimura replied, "I really wanted to make my lessons available to the greater Miami area. As an incentive for signing up, I'm offering Miami residents a 10% discount on lessons."
In addition to his new website, Dyce Kimura also has a new office location. "In order to make my services conveniently available, I recently opened a new office location just off the Turnpike at the Hollywood exit." Those who can't make it to the new office have no need to fear. Dyce continues to offer Skype Christian guitar lessons and offers students an online membership with access to instructional videos.
Regarding his dedication to providing Miami's best guitar lessons, Dyce Kimura stated, "I want to remove the barriers to music education. In my opinion, the ability to learn how to play music should not be hindered by location or time. As a music teacher, my goal is to make music education available to everyone."
Dyce Kimura's areas of musical expertise include electric guitar, acoustic guitar, bass and ukulele. Regarding his experience as a professional musician, Dyce Kimura said, "I love playing guitar and feel that the process of learning to play music is extremely rewarding." Dyce's method of teaching can be described as intuitive. As a professional music teacher, Dyce Kimura provides Miami guitar lessons for musicians of all levels.
For the past 28 years, Dyce Kimura has become known as one of the best guitar teachers in South Florida. Dyce's passion for guitar and music has been described as infectious and his ability to teach music has received rave reviews from music students. As seen on his site, he's helped transform the musical abilities of many guitar players while promoting individual growth as a musician. When not instructing students online or in one of his offices, Dyce Kimura serves as the Worship Leader at Lighthouse Community Church where he directs the music program.
Contact:
786-457-3687
http://www.guitarlessonsmiamifl.com/