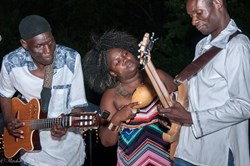 Oliver Mtukudzi was inducted into the Afropop Hall of Fame , USA July 21, 2013.
San Rafael, CA (PRWEB) December 01, 2013
Zimbabwean Oliver Mtukudzi is a truly great guitarist, vocalist, performer and composer. Gifted with a deep and gusty voice plus a talent for writing songs that reflect on the daily life and struggles of his people, 'Tuku' as he is known, began performing in 1977. He has since, earned a devoted following across Africa and beyond, all the while incorporating elements of different musical traditions combined with traditional African music. A member of Zimbabwe's Kore Kore tribe, he sings in the nation's dominant Shona language as well as Ndebele and English.
Tuku (along with Angelique Kidjo, Hugh Masekela and Ladysmith Black Mambazo) is one of the most successful African recording artists in North America, having sold hundreds of thousand of records on Putumayo, Heads Up/Telarc and Sheer Sound. Tuku is an alumni of Acoustic Africa II (2011 edition) and a UNICEF Goodwill Ambassador for Eastern and Southern Africa, focusing on Young People's Development and HIV and AIDS Prevention.
Tuku's music is heavily influenced by a humanist chimurenga ethos, which, in turn, is inspired by the hypnotic rhythms of the mbira (thumb piano). His music also incorporates South Africa mbaqanga, the energetic Zimbabwean pop style jit, and the traditional kateke drumming of his clan. One of Tuku's biggest fans is Bonnie Raitt, who has not only called Tuku "a treasure," and recorded a cover of "Hear me Lord" but also credits Tuku as the inspiration for the song "One Belief Away" on her album Fundamental.
"Tuku" has written and performed some of the most heart rending music against hatred and violence and composed music appealing for restraint, for tolerance…music about self-discipline and peace amongst the people of the world. His music has continued to touch people in many different ways, guiding and stirring past generations in the same manner the compositions will impact on the future.
Oliver Mtukudzi was inducted into the Afropop Hall of Fame in the United States. Mtukudzi picked up the honour on Sunday July 21, 2013, after performing to 10,000 New Yorkers at the Central Park SummerStage Festival.
Tonight he returns to the Osher Marin JCC to perform in their 400 seat indoor theater. An incredibly unique opportunity to see this legendary artists and humanitarian perform in such an intimate venue. Seating choices ranges from general admission to special reserved cabaret table seating.
WHAT: Oliver Mtukudzi & the Black Spirits
WHEN: Sat, Feb 15 @ pm. In the Hoytt Theater
WHERE: The Osher Marin JCC, 200 N San Pedro Rd. San Rafael, CA
From Highway 101 is effortless, ¼ mile E off 101
SEATING: General Admission, Special Reserved and VIP seating choices
TICKETS: $22 - $35 MARINJCC.ORG | 415.444.8000
The Kanbar Center for the Performing Arts is the Performing Arts Department within the Osher Marin Jewish Community Center in San Rafael, California. For over 20 years we have spread the power of music, voice, humor, taste, culture, movement and words throughout the community by presenting classical music, club style dancing events, comedy, musical concerts, theater and performance in the grand Hoytt Theater, lectures. chats and demonstrations in the Kurland lounge and great world music & dancing for all ages outdoors under summer skies on Swig Field. All are welcome; no membership is required to attend. The Center is a long-standing Marin non- profit, centrally located in Marin County and just 1/4 mile east off Hwy 101