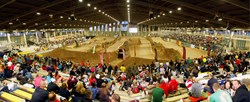 The 2013 USA BMX Grands is officially the largest BMX event ever held.
Tulsa, OK (PRWEB) December 01, 2013
Each year, since 1998, the USA BMX Grandnational is held in Tulsa, OK over Thanksgiving weekend. And for the past three years, they've experienced record-breaking turnouts. Last year's race-count of 678 motos (races) set the bar pretty high, but this year - for the 2013 USA BMX Grands, the number of participants and turnout shattered all previous records, making this event the largest BMX race ever held.
For Saturday and Sunday's event, USA BMX signed up more than 4,000 entries - coming from 49 states and 17 different countries. Put them altogether and there are over 710 races. The largest turnout from the U.S. came from Texas, with California in a close second.
The USA BMX Grands is the final race of the BMX season - and is where riders can earn a No.1 Championship title in many categories. Friday's event - the Race of Champions, awarded winners a "ROC No.1" numberplate, that they can run throughout next year. On Sunday, there are seven National No.1 titles up for grabs to the sport's fastest boy and girl amateurs.
ABOUT USA BMX:
Formed in 1977 as The American Bicycle Association, USA BMX is headquartered in Gilbert, Arizona, and organizes BMX racing for boys, girls and adults, throughout the United States, Canada, and Puerto Rico. With over 70,000 active members who compete on a weekly basis at over 370 racing facilities in 49 states, the family-oriented Olympic sport of BMX Racing continues to grow.
USA BMX, with a 30 event national race schedule, is the largest promoter of action sports in the country.