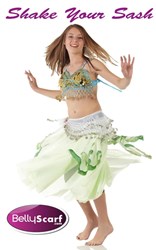 Black Friday and Cyber Monday Sale runs through December 2nd till midnight.
Tampa, FL (PRWEB) November 30, 2013
Belly Scarf is offering a Black Friday Sale combined with Cyber Monday all weekend long until December 2nd.
The sale runs from Friday November 29th through Midnight December 2nd. In the sale, are included new arrivals of scarves including:
●Jingly Hip Scarves for $5 each when you order 20
●Plus Size Scarves are only $10 each or $99/Dozen (choose your Colors)
●Velvet Gem Scarves for $12.95 or $99 / Dozen
●Silver Leaf Scarves are $11.95 $99/ Dozen
●Shimmering Scarves are $14.95 $99/ Dozen
●Kids Dance scarves are only $6 each or $59.95 / Dozen
For more information, contact BellyScarf at http://www.BellyScarf.com or call 1-800-743-1860.