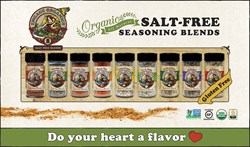 Our loyal fans are now greeting us with hugs at northern California demos to thank us for bringing back the salt-free blends that packed a punch into their favorite recipes," says Pat Gage
Kelseyville, CA 95451 (PRWEB) November 30, 2013
Customers are rejoicing that the salt-free seasoning blends they grew to love under the Parsley Patch brand are now back and available in an organic rendition called Engage Organics Salt-free Seasoning Blends.
"Our loyal fans are now greeting us with hugs at northern California demos to thank us for bringing back the salt-free blends that packed a punch into their favorite recipes," says Pat Gage, who is joined by her husband, Jon, son Jason Sherwood (41), and nephew, Jeremy Fitzpatrick (36) in the local family business.
Jason Sherwood, grew up in this small family business, and now his son, Jack, is busy learning how to make the secret blends that take the guesswork out of how to season foods. Engage Organics Salt-free Seasoning Blends can be shaken directly onto foods at the table or infused into everything cooked or barbecued. So many loyal fans have tearfully reported they simply couldn't cook without the blends and were crushed when they could no longer find them.
Engage Organics Salt-free Seasoning Blends come in 9 varieties. Look for the Original All-Purpose with and without sesame seeds. Of course, the famous GarlicSaltless Blend makes the best garlic bread on the planet; while Tuscany-Mix puts zip into anything pasta. The Mexi-Mix is a sure bet for replacing those high sodium taco seasoning packets with real flavor instead of salt. And if you want a Starbuck's treat in your cup of java at home, try Sweet-Cinn and gain the cholesterol lowering benefits of cinnamon in a stir. Engage Organics Lemon Pepper is completely void of sugar and salt, which are the main ingredients in most Lemon Peppers. Engage Organics Lemon Pepper has pucker power and is flying off the shelves. Don't miss It's-A-Dilly, a cult favorite for salmon and beyond. And lastly, the new Go-Grill-A-Rub turns barbecue into bliss.
These salt-free seasoning recipes are the identical recipes that made each brand famous under the Parsley Patch label.
If you would like more information about Engage Organics Salt-free Seasoning Blends, go to http://www.engageorganics.com
# # #
Media Contact
Pat Gage
707-387-0705
pat(at)engageorganics(dot)com