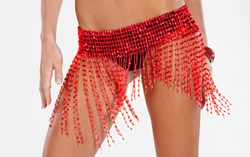 The fun challenge will be to see what names 5000 facebook fans come up with.
Tampa, FL (PRWEB) November 30, 2013
Belly Scarf is introducing new colors for Belly Dancing Hip Scarves.
On December 5th, Belly Scarf will be posting the new pictures on their company facebook wall and getting opinions on what name they should be:
New Color 1: Light Yellow Color
New Color 2: Cream or Gray
New Color 3: Rose Pink
New Color 4: Peacock
New Color 5: Royal Purple
Since they have never been introduced in the US market, the pictures will be taken on December 2nd and posted on facebook wall without any names. The fun challenge will be to see what names over 5,000 fans come up and vote on.
Belly Scarf is asking all their fans to join in the effort to help be part of our team in.
In return, the company who gets the winning vote will receive a free belly scarf.
A Belly Dancing Scarf has been a traditional accessory for belly dancers across the world. The hip scarf ties around the waist to give the dancer a little flare to enhance their outfit. However the main reason the dancers wear them is to hear the sounds of their hips to ensure they are moving in the right direction and going along with the beat of the music. In a way, the belly scarf is a musical instrument which belly dancers use to play and be part of the band.