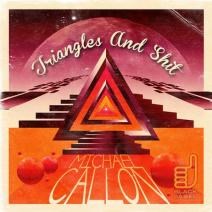 Doin' whatever you want to do... If you feel it just get up n' dance.
Los Angeles, CA (PRWEB) November 30, 2013
Producer Michael Callon – Michael has been creating music since the late 90's where he began as a singer and songwriter in a punk band. In 2002 his attraction to electronic dance music found him DJing regularly in the Los Angeles nightlife circuit, and in 2007 producing electronic dance music as well. Since then Michael's creative passion has led him to his second commercial release. The "Triangles and Shit EP" consists of two dance-floor-creating, mood-moving songs, "Everybody Give" and "Anytime Dancer". "Everybody Give" is a spacious, deep, hypnotic and funky groove with an uplifting and positive lyric that flows in a verse chorus form. It works well in both big room and intimate lounge settings. "Anytime Dancer" is a somewhat abstract funky driver with a techy underlying pattern. It has a brilliant fun lyrical sample in regards to dancing that will make you "do whatever you wanna do".
Good For You Records Release Party, Saturday, November 30 at Bardot /Avalon Hollywood -
The official release party for GFY Black Label is at the historic Bardot Hollywood, 1737 Vine St. Hollywood, CA 90028. DJ's for the night include Kenny Summit (GFY), Wally Callerio (Dufflebag Recordings), Zernell (Grimy Edits), Michael Callon (GFY, JDC), Sharper Image (GFY), Abdul Shakir (GFY) and Bret Wallace (Re:Love). 10pm – 8am. Free before 2am, $20 after. Going to be a smashing party!
Availability - The release is available on Beatport, iTunes, and most other online electronic music download sites.
Beatport: http://www.beatport.com/release/triangles-and-shit/1204661
More from Michael Callon: http://www.soundcloud.com/michaelcallon
More from GFY: http://www.goodforyourecords.com
Contact - To learn more about this Producer/DJ and for bookings, please contact:
Jane La Trace, Media Relations
Office: (949) 463-1347
Fax: (888) 463-4122
thejanelatrace(at)gmail(dot)com
###