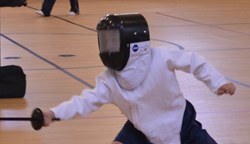 Bringing the sport of fencing to Everest has been fantastic! This beautiful sport will benefit the Everest Academy students in their future," says Master Fencer Mariek P. Stepien.
Lemont, IL (PRWEB) December 30, 2013
Everest Academy recently held its First Annual Fencing Competition. Students were privileged to have the sport of fencing available as an after school extra-curricular activity. Students in kindergarten through eighth grade mastered the complex sport and experienced its enormous benefits. The students found fencing to be a challenging individual sport built on mutual respect and self-discipline, which made the competition all the more dramatic and exciting.
The First Annual Fencing Competition showcased the skill and technique of Everest Academy students at all age levels. The competition started with a blessing, followed by the singing of the national anthem and words of support by the Everest Administration. "We hope to provide a forum for a sport that calls upon our students mental talents and strategic thinking skills as well as develop the students physical prowess. Fencing is a complex sport that provides this challenge," said Christine Gamache, principal at Everest Academy.
Fencing builds upon the students' coordination and focus. Salute, en garde, advanced retreat, lunges, and thrust to target were all moves that were learned, practiced and polished, and then tested and challenged at the competition. Safety information, including how to use the equipment as well as how to conduct oneself, was taught, highlighted and reviewed regularly in each practice. "Safety is a main concern of all involved and the rules and techniques provide the safe and positive environment were safety is assured, competition thrives and enthusiasm for the sport grows," explained Master Fencer Merak P. Stepien.
Master Fencer Stepien, who has coached at Cambridge University and University of Notre Dame and competed in world championships as well as the Olympic games stated, "The management and administration at Everest has been fantastic and supportive during these last months, allowing fencing to be offered as an extracurricular sport, and one that is relatively new to this Midwest area. The facility at Everest is superb, one that would be a dream for any club or program. To sum it up, bringing the sport of fencing to Everest has been fantastic! This beautiful sport will benefit the Everest Academy students in their future."
Everest Academy is an independent Roman Catholic school in Lemont educating children from preschool through eighth grade. The teachers and staff are dedicated to forming the whole child by providing the highest level of academics, by building strong character, and by preparing generous leaders ready to serve the community. If you would like to learn more about Everest Academy's unique approach to education, please contact KC Wollenberg at 630-243-1995 or visit http://www.everestadvantage.org.