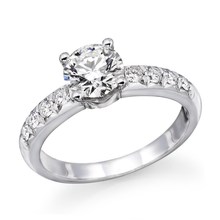 Find a good price on high-end and diamond jewelry is often the most time consuming and difficult part about purchasing jewelry.
Las Vegas, Nevada (PRWEB) December 09, 2013
Fine Jewelry is one of the best and most versatile gift options available to purchase for friends and family. Find a good price on high-end diamond jewelry is often the most time consuming and difficult part about purchasing jewelry. From major department stores to local pawn shops, many retailers promise good prices and great quality on diamond and specialized stone jewelry; however, when consumers go to purchase, they often find the diamonds or other stones are not quality items and that the gold is less than up to par. Capri Camera, a leading online retailer, is now addressing these concerns by providing consumers with some of the top diamond rings, necklaces, bracelets, gems, and gold on the market and are offering a discount on all diamond jewelry on the website. Their philosophy is to ensure consumers receive what they are looking for when they shop for diamond gift jewelry.
Capri Camera launched in 2012 as a shop that catered mostly to photography enthusiasts. As time went on, the company decided to integrate other items photographers might want to purchase as gifts. Jewelry is what the company settled on and the items have been one of the best-selling since its inauguration on the site.
As an ideal gift for many occasions, diamond jewelry is a timeless classic that consumers buy for celebratory occasions. Consumers seek items that will wow the person they are gifting to and pieces that they can also purchase for the best price. Capri Camera is offering a discount on their diamond jewelry, which includes 3 carat diamond and emerald bracelets, white gold bracelets and diamond bracelets, plus much more.
The discount diamond jewelry on Capri Camera is ideal for the end-of-year holiday season or to ring in the New Year as a gift for that special someone. The sale ends December 31 and items like a ".6 carat ring normally selling at $3,210 on sale now for $1,472," says site owner Mel Nickel. To learn more about Capri Camera or to see the diamond jewelry options available on discount, go to http://www.capricamera.com.
About Capri Camera
Capri Camera's core philosophy is to remain a specialized, customer-centered company. With more than 18,000 products in inventory ready for shipping, customers have access to the most trusted brands in the imaging and fashion accessory industry. By purchasing products directly from key manufacturers, Capri Camera is able to promptly deliver superior photography and optical equipment and fine jewelry to the consumer at exceptional prices.