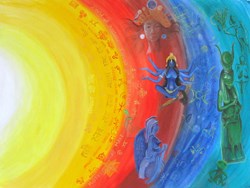 The loss of feminine is not just the loss for women but also men, because it means of loss of anything creative, emotional and nurturing.
San Jose, CA (PRWEB) December 17, 2013
"Goddess 2014" organized by Pratibimba will share stories and culture through the works of art that tells us the real life story of how the feminine spirit is slowly changing the world. For, like the Goddess, there is no limit to what the feminine spirit could do to change the world.
According to Pratibimba, the diva, the divine, the nurturer, the powerful, the great mother was the first god humans ever knew. And she still lives on in millions of hearts through Mary, Athena, Kaali, Lakshmi, Durga, Saraswati, and many other incarnations.
The worship of the Gods prospered because of the goddess herself, but today her loss is the loss of the feminine in each one of us. When she loses, consumerism wins over creativity. The external material world wins over the internal self. The long term view of a nurturer is lost in the jungle the logical thinking, which produces results.
Humans who thrived because they could nurture the "other" at the cost of "self" are losing the battle today in the name of competition. It is time to get out of the rut of this mechanistic world and look at the big picture of our lives.
To bring the feminine to the fore, we need to be aware of the feminine qualities in each one of us. We have to make those little changes that may not have economic value, but make sense for generations to come. We have to relearn how to create.
And this is the feminine spirit which this art show, judged by Theresa Parker, will celebrate.
About Pratibimba:
Pratibimba is a platform started by Artist Sujata Tibrewala to support art and the process of internal reflection through art. She has conducted many workshops and art exhibits nationally and internationally ever since it was founded in 2008.
About Theresa J Parker:
Theresa Parker currently teaches art and art history at Benedictine University in Lisle, Illinois. She is also Director of Ochosi Editions, a networking resource for print makers, and is the Director/Writer for That's Inked Up, a blog on contemporary printmaking. She has exhibited her artwork throughout the United States, Asia, and Latin America, and is the recipient of numerous awards, including grants from the National Endowment of Humanities, the Chicago Department of Cultural Affairs and the Illinois Art Council.